Ultimate Fallout #4 changed the game when it introduced the world to Miles Morales. If you're a fan, then you have to keep reading. What you have here is a collecting guide, and not just any collecting guide. It's a completionist collecting guide – and you don't want to miss a single issue.
With the trailer for the highly anticipated movie, Spider-Man: Across the Spider-Verse, dropping in December of last year, interest in Miles Morales' is back (if it ever left!).
Miles and his first comic book appearance, Ultimate Fallout Spider-Man No More #4 (UF4), need no introduction. He's an immensely popular character following the lineage of one of the most popular superheroes of all time!
UF4 is one of the most expensive modern comic books. CGC-graded UF4 first prints have sold for over $3,000, the newsstand edition has sold for $35,000, and the 1:25 has sold for over $43,000! UF4 was even featured as CGC's book of the month back when "Spider-Man: Into the Spider-Verse" was released.
Many, including Norman Robinson III, have high hopes for the investability of UF4, while others, such as Joseph Overaitis and Ryan Kirksey, are not as keen.  This blog is not meant as investment advice but as a completionist collector's guide for Miles Morales' first appearance.
First Appearance
Cover artist – Mark Bagley: First print, second print, and newsstand variant.
Cover artist – Sara Pichelli: Second print variant.  Cover artist – Marko Djurdjević: 1:25 variant.
Fun Fact
The original cover of UF4 covering the then unknown Spider-Man actually had Miles' face blacked out. You can see the full blacked out image in the UF4 Spanish edition below. The art team then head to draw a small "patch piece" for the second printing.  The picture below taken from Comic-Con Museum over at San Diego, December 2022, shows the original art pieces for the covers.

Facsimile Comics
Facsimile edition comics are replicas or reprints of comics. They feature all of the original contents of the original issue, including the cover, story,  letter pages, editorial columns, advertisements, etc. Facsimiles often replicate important and likely expensive books. Thus facsimiles provide collectors with the most affordable way to own a piece of history.
Bagley Fascimile & Djurdjević Fascimile

Variant Reprints
What is a variant reprint? Earlier, I had pictures of what were called second prints.  These comics are different from the additional printings of the original issue as those were produced to fill the demand and often printed shortly after the first (depending on how many rounds of printing).
Reprints are akin to facsimiles, which they are sometimes referred to as. Variant editions are published at the same time as the first printing but have a unique cover. Depending on the comic, these may be open for order, a ratio incentive, or a store exclusive.
For the purpose of this article, I am defining a variant reprint as something distinct from a facsimile and variant in that it, too, features all of the original contents of the original issue, has different cover art, but is published at a later date. 
Cover Artist – Matt DiMasi: silver, black, and gold.
Cover Artist – Mike Mayhew: trade dress & virgin.
Cover Artist – Clayton Crain: trade dress, virgin, and acetate.
Cover Artist – Junggeun Yoon: trade dress & virgin.
Cover Artist – Jonboy Meyers: cover A, cover B, cover C, and cover D.
Many of these were released at New York Comic Con and as comic book store exclusives in 2021 with the exception of one of Clayton Crain's variant, if you can call it that, being released at the 2022 C2E2 convention.  For more information on this variant and what would become known as #Acetategate, read Matt Kennedy's articles.
True First
First appearances can be a tricky topic, like determining whether something is the first appearance versus cameo appearance! Even trickier is finding the very first time a character appears at all, a recent phenomenon sometimes referred to as a "true first."    True firsts can appear in media other than comic books but are kept to some sort of print media. Some people oppose true firsts because of these unclear definitions. For example, someone might argue that Ultimate Fallout #3 is a true first because it contains the partial image teaser of Ultimate Fallout #4 (Pictured), which we now know is Miles Morales.
Others oppose true firsts because that would make any distributor magazine like Marvel Previews count. Not all true firsts are previews, sometimes, the character or a prototype of the character may be hidden in another comic by the creator or in an ad. True firsts aren't everyone's cup of tea. How they're valued also is up to opinion. People generally value a true first more when the character is featured on the cover (should these be considered first "cover" appearances – a separate controversial topic) rather than the interior. The following have all debuted at the same time or before UF4.
Marvel Previews #94
.                 
Marvel Previews #94 contains an interior image of the 6-issue Marko Djurdjevic 1:25 connecting variant cover that includes a depiction of Miles Morales, which predates UF4, coming out in June 2011.
Marvel Previews #95
Marvel Previews #95 contains the first image of Miles Morales on the cover using the same cover image of Ultimate Comics: Spider-Man #1 by Kaare Andrews (Miles' second appearance). This also predates UF4, coming out in July 2011.
Comic Shop News #1259
.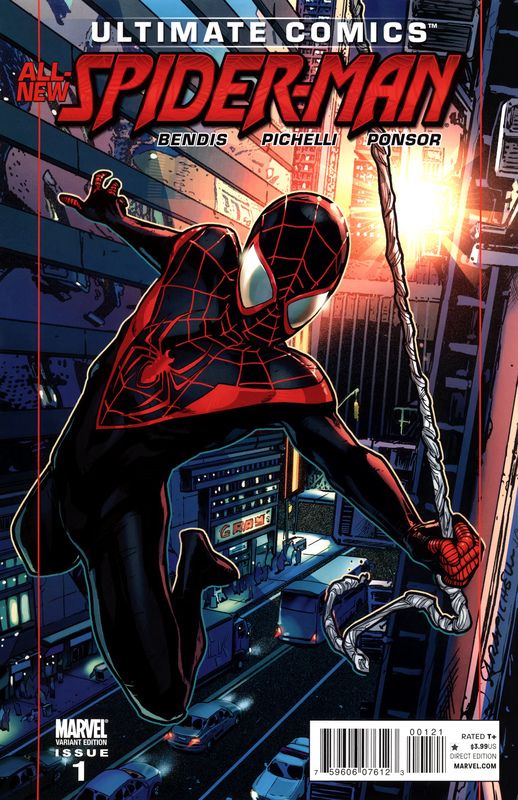 Comic Shop News #1259 contains the first image of Miles Morales on the cover using the same cover image of Ultimate Comics: Spider-Man #1 1:30 variant by Sara Pichelli, (Miles' second appearance). This arrived in shops on the same day as UF4 went on sale.
Foreign Comics
The world of foreign comic collecting is a crazy niche within a niche that I happily stumbled across earlier this year. Most are probably aware of Canadian and UK comics due to demand for their price variants. For those who don't know, these foreign comics are every bit the same as their American counterpart but have a different cover price on the comic. However, foreign comic books often change much more than the cover price. Foreign publishers often alter, add or take away elements.
Sometimes it's simply presenting the title in the native language, and slight colour variants, while other times, it's a completely different cover, either taken from the book's interior art or a completely new cover. Furthermore, the actual interior of the book often contains multiple stories (sometimes from different titles) and resembles what Trade Paperback or collected stories in the US would look like. The size of the books can also vary, from large magazines to small digest formats. There is a variety of reasons for these changes that can be linked to politics, supply issues, and artistic differences that vary from country to country and time period. These differences are either the reason you love or hate foreigns.
Foreign collectors like to collect sets. A set is all the versions of a book, often a key issue, such as the first appearance of Miles Morales, or an iconic cover. This can be difficult as some foreigns have a cover of a US counterpart but have a completely different story or vice versa, making what defines a complete set, up to the individual collector. Luckily all foreign copies of UF4 contain a version of either Mark Bagley's or Marko Djurdjević's cover and the story with the Miles' first appearance!  
Many view international comics as "worthless" reprints since, as you'll see below, some come out much later than the original US printing. Often they're worth far less, but in other cases, multiple times more. CGC, the top third-party comic book grading company, will make a clear distinction that foreign copies are distinct from American facsimiles or reprints, and key events will be appropriately designated in accordance with the country of origin. The value of foreigns can be hard to determine as there is not the same supply and demand, collecting culture, or general information as there is with respect to American comics. Though, this is a changing phenomenon, one that I hope this article contributes to.
Evidence of growing interest in foreign comics resulted in Heritage Auctions hosting its first dedicated foreign comics auction in November 2022 (click here to read more). Solicitations for their next foreign comic auction in March 2023 are open. Comic Connect is also hosting a foreign comic auction right now, which ends mid-March.
Germany
Ultimate Fallout Eine Welt Ohne Spider-Man Vergriffen #1 was the first foreign edition,  published by Panini in February 2012. It collects the Ultimate Fallout stories 1 to 6, resembling a trade paperback. Remember that this is how comics are normally produced here, there are no floppy comic-esque editions. The main difference to Bagley's cover is that the title is in German.
France
Ultimate Spider-Man Hors Série #4, was another early edition, published by Panini in March 2012. It also contains Ultimate Fallout stories 1 to 6. The main difference to Djurdjević's cover is the top white title bar and red lettering, reflecting the style of other books in the Ultimate spiderman series.
Italy
Ultimate Fallout: Mai Più Spider-Man #11 was published by Panini in March 2012.  This book only contains Ultimate Fallout stories 4 to 6 and is in floppy comic book format.  The main difference to Djurdjević's cover beside the title being in Italian, is that Miles is embossed. You can see Miles' shiny reflection when tilting this book at different angles.
Spain
Ultimate Conseqecuencias #2 was published by Panini in April 2012. This book contains Ultimate Fallout stories 3 and 4. Its back cover is that of Ultimate Fallout 3.  This edition is in floppy comic book format, but its dimensions are like that of a large magazine. The extra length gives enough room for Bagley's cover to show Miles' whole head, but still hidden, unobstructed by the title.
Brazil
Ultimate Marvel O Dia Seguinte #27 was published by Panini in September 2012. It contains Ultimate Fallout stories 4 to 6. This edition is in floppy comic book format. The main difference to Bagley's cover is the title bar's colour and that it shows a bit more of Mile's head, though not the whole thing like the Spain edition.
Mexico
This foreign variant is likely the most well-known by American collectors and sells for the next highest after the first print. LA Mole Con is an annual convention in Mexico.  Like other conventions, there are tons of comic convention variants.  LA Mole Con variants typically reprint keys and iconic covers in a shiny foil exterior, as is the case here. This edition was published in March 2020 and goes for more than the second print!
Russia
Современный человек-паук published by Zodiac in August 2020 during Russia's free comic book day. The main difference to Djurdjević's cover is that the title is in Russian, and it has the free comic book day logo above. This book was limited to a 3000-copy print run and comes in floppy comic book format.
This particular edition is displayed as an example in GCC's article on international editions. As you can see, even though it was published eight years after the American version, CGC still labels it as Miles' first appearance.
Turkey
The latest edition to this list is Ultimate Fallout #4 Örümcek Adam Artık Yok #4, published by Marmara Çizgi in December of 2022. Paralel Evren provided three versions reflecting Bagley's and Djurdjević's covers, with the main difference being the title in Turkish. These comics are slightly smaller than your typical modern comic coming in 6.3 x 9.4 inches (16cm x 24cm). The Bagley cover was limited to 4000 copies, while the Djurdjević trade dress cover was limited to 600, and the virgin was limited to 300.
.                                 
.                                     
Paralel Evren exclusives rival LA Mole Con's for being the most well-known foreigns in American circles. Their exclusives make the distinction between foreigns a bit tricky as a quick browse of their website or eBay, will reveal reprints of classics like Amazing Fantasy #15 or Hulk #181. Some of these reprints are "normal" foreigns, while others feature new cover art making them more akin to a classic American variant reprint. It doesn't help when these "normal" and variant foreigns are released at the same time.  
Related Covers
I did say this was a completionist guide!  First, we have Ultimate Comics Spider-Man: Death of Spider-Man Fallout Premiere Hardcover [DM variant] published in November 2011. The standard cover reprints Ultimate Fallout #1.
Next is Halloween ComicFest Vol 2019 Miles Morales: Spider-Man #0, which is technically a reprint of UF4 but does have a different title and is graded as such.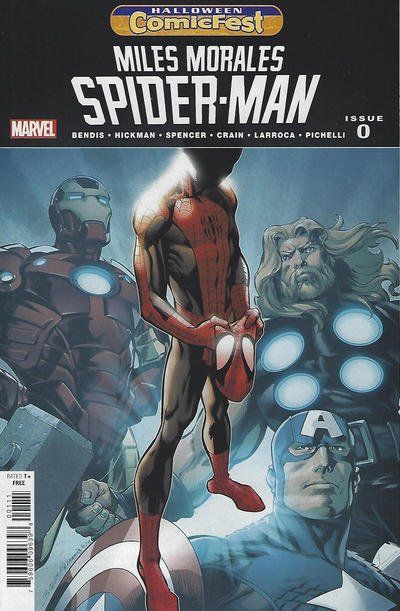 Finally, there's the Funko POP! Marvel: Comic Cover – Miles Morales (Target Exclusive) released in July 2022.
Into the Comic-Verse
So, whatever you consider as part of your set: facsimiles, variants, reprints, true firsts, or foreigns, I wish you good luck and happy hunting! For any new foreign comic collectors, I welcome you down the rabbit hole. Tracking down foreigns can be quite a challenge.
Often it isn't even a price tag issue but simply finding a copy, especially in high grade! Luckily the foreign comic community is filled with dedicated and helpful people. Check out articles on foreign books like Ariel Lazo's Jumping Into Foreign Land. I'd like to thank those in the Foreign Comic Collector Facebook Group from who've I got most of the information for this post and the books themselves.
*Any perceived investment advice is that of the freelance blogger and does not represent advice on behalf of GoCollect.