One of the nuances to this particular superhero is the fascination with her comic book bondage covers over the years. Are the Wonder Woman bondage covers profitable and worth collecting? Further, which covers are keys to restraining our favorite Amazonian superhero?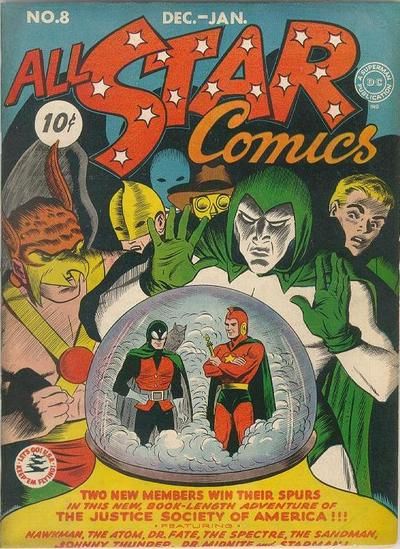 The recent creation of Wonder Woman on the big screen has been a fully positive event. It has showcased the incomparable Gal Gadot as Wonder Woman, bold, bad, and beautiful.  Our current version of  Wonder Woman has gone through a metamorphosis in comics and in many ways mirroring the image of the modern woman for society itself.
First Appearance: All-Star Comics #8
Wonder Woman first appeared in All-Star Comics #8, published December 1941. Her creation was the vision of a minor celebrity scientist at the time named William Moulton Marston, who invented the polygraph. He wanted his heroine, Wonder Woman, to "triumph with love rather than firepower."
"She (Wonder Woman) was an archetypal figure in popular culture that has been adapted to various media, including movies, TV series, animations, and of course comic books.
William Marston was hired as an educational consultant for National periodicals and All-American Publications. These two companies would merge to become DC Comics. At that time, Marston wanted to create his own new superhero. His wife suggested a woman. " -Wiki
Wonder Woman's Creator
Apparently, Marston was in a "polyamorous relationship with his wife and her girlfriend "which had some light bondage between the three. He wanted Wonder Woman to be the era's unconventional liberated woman.
As a scientist, Marston created the systolic blood pressure measuring apparatus which was crucial to the development of the polygraph, or lie detector.
Initially, he wanted Wonder Woman to be an allegory for the ideal love leader whom he believed should run society.  While probably well-meaning, his goals were admirable. However, they would lead his superhero into the comics which were fraught with one chained danger after another.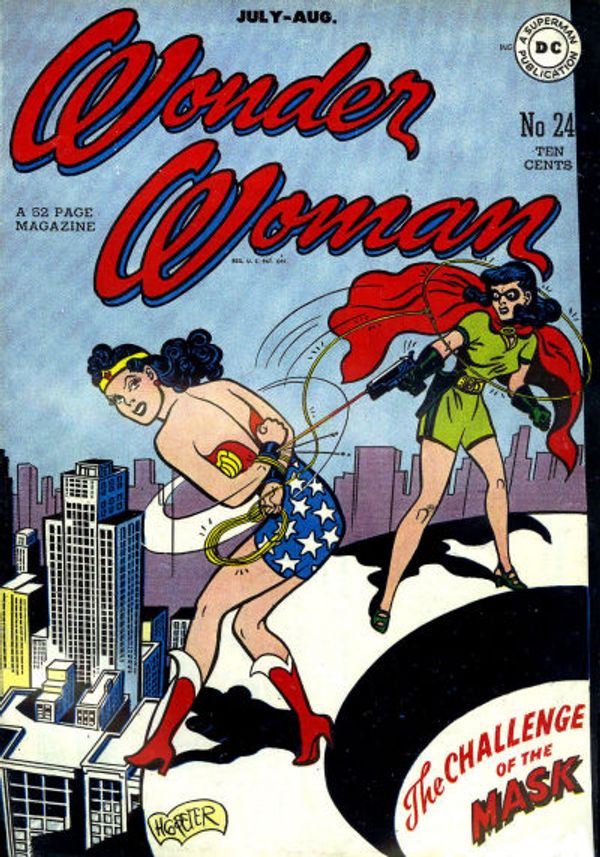 Early Bondage Cover
The first comic that I could find in the Wonder Woman title with a  bondage cover was Wonder Woman #24. This shows her hands tied behind her back in pain trying to escape her bondage situation. She appears in bondage again in Wonder Woman #33 as well. That has two Amazonian-type characters holding her in the middle of the cover by left and right arm. In many ways, the improvement in Wonder Woman's cover presentation probably parallels some of the improvements and equality gained by modern women.
She first appeared heavily in covers in Sensation Comics #1 and I couldn't find a heavy amount of bondage covers there. I think it was really a later thing of the 60s and 70s. This kind of depiction was possibly more acceptable for the times.  I decided to kind of focus on Wonder Woman in her own title and found quite a few "captivating covers."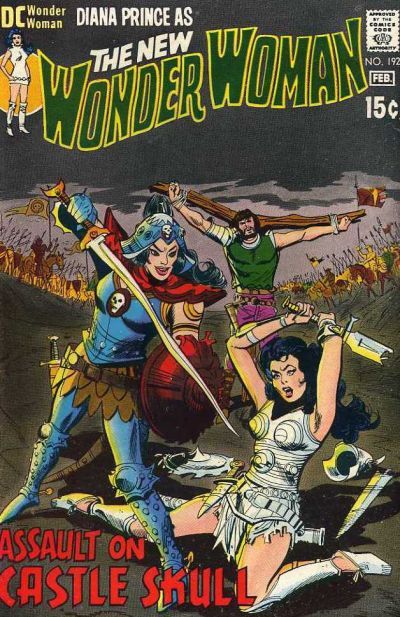 Bondage in the Background
Wonder Woman #192 shows her mother threatening her with a sharp sword and Wonder Woman on her knees almost in supplication and bondage. Also, behind her is a man in bondage.
Headsman Cover
Though not pictured here, Wonder Woman #199 is the most obvious representation of bondage covers. It shows a headsman with an axe behind her and Wonder Woman chained to the wall on her knees. That cover was done by the team of Jeff Jones Don Heck Ross Andrew with the Denny O'Neil as writer in 1972. Obviously, a very different take on Wonder Woman with a shocking cover, which definitely shows bondage.
Target Cover
Wonder Woman #196 is another one of those covers from the early 70s that I think is just a little outrageous. It shows the cover with Wonder Woman again chained, but this time her back is to us.
Further, somebody's painting a target on her and she looks like her blouse has been torn away to expose her.
This is an over-the-top cover, even for comic book artists Mike Sekowski, Perigi Peter, and John Costanzo.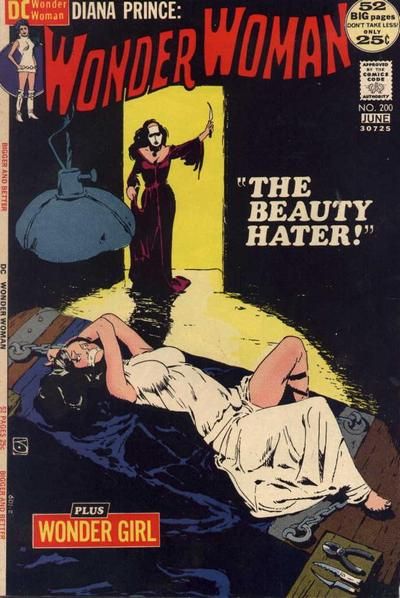 Artistic Horror Cover
Another interesting cover is Wonder Woman #200. On this cover, her mouth is gagged and she's tied to some kind of table. Further, the "Beauty Hater" is standing in the doorway with a knife.
It is quite intimidating and very scary for a comic. However, the 70s were a time of real exploitation of what you can get away with in comics.
This cover was created by Jeff Jones, and one of my favorite artists Dick Giordano.
80s Wonder Woman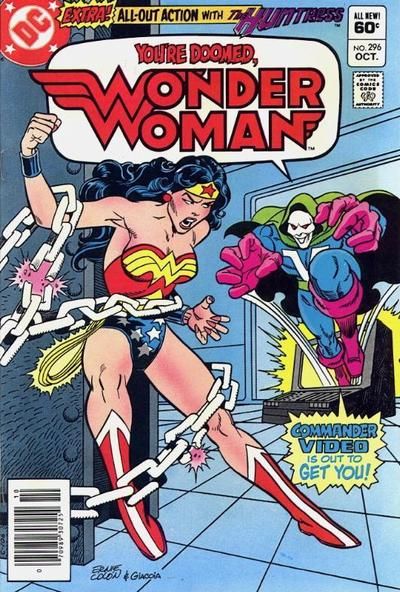 The bondage covers didn't stop with modern times. Even during the 80s, they kept producing these covers. Wonder Woman #296 shows her chained to a wall while some fearsome-looking villain is moving toward her.
Wonder Woman looks helpless and is fighting to break out of the chains. Gene Colan and Roy Thomas both worked on this comic book in 1982. 
Do all these bondage covers add up to Wonder Woman returns? The bondage covers I have highlighted below are fairly well known and capture the essence of this collectible sub-strata. 
Wonder Woman Bondage Cover Data Sheet
Bondage covers an Index?
Bondage covers are interesting for so many reasons, the least of which is the sexual nature of the covers. Primarily it is a signpost for the zeitgeist of the times. Furthermore, how those times are depicted within the pop art community.
Though I have zero points of reference, I would guess there's probably an equal amount of male superheroes in bondage on covers. Though, without quite so many phallic symbols being pointed at them, I am sure.
Perhaps these represent kind of an index page for how a portion of the male society sees strong women, or not.
Rationale and Data
The real question for readers is: "Do bondage covers make a worthwhile investment or just a total joke?" The evidence seems to suggest the former, as I am looking at my WW Bondage Cover Data and see returns as mundane as positive +15% and as lucrative as positive +150%! No need to strap yourself to a rocket to see these books also rise over time.

To single out Wonder Woman #200 because it has some definite value in 9.8 grade. There's only been one sale recently for $2,200. Further down the grading food chain are more approachable books like 9.2 graded comic. It has an FMV of $260 for that same comic book.
Bondage Covers = Minor Keys
Buying minor keys is an art in and of itself. Bondage covers are definitely minor keys in comparison to the larger world of comic books.  From a bondage cover collection standpoint, some of the numbers I'm looking at are somewhere between $75 (for fine) to upwards of $450 (for near mint). This is a good range, especially for somebody starting in comics from ground zero.
These are collectible pieces that spark a conversation almost immediately.  The bondage covers have value, interesting nuance and the older Wonder Woman's are vintage and hard to find.
Conclusion
In the end, William Marston, who helped create the polygraph, is showing us his version of the strong, independent woman.  From there, society has really gravitated to Wonder Woman's creation and place in the superhero world of DC Comics. Hence, look at the casting of Gal Godot and the dignity that she brings to the role. Despite the ongoing, shall we say "interesting" cover pose depictions over the years.
Bondage covers are profitable and, I think, a good collectible if you see them as art and investment. Not necessarily from the standpoint of salacious teenage titillation and nonsense; the bottom line is whether chained by the hangman or attacked by a phallic Nazi rocket, Wonder Woman endures and improves with age. The only thing unrestrained is the price of her bondage cover comic books which continue to rise in value year after year.
*Any perceived investment advice contained within this blog is that of the freelance author and does not represent opinions or advice from GoCollect.