One of the single biggest drivers of comic book speculation nowadays is the MCU.  From major characters like Spider-Man all the way down to D-listers like Frog Man, the MCU has fundamentally changed the way people look at comic books.  The goal of this article series is to provide investors of all stripes with some well-reasoned speculation opportunities so they can be one step ahead of a constantly shifting marketplace. So for this issue, let's talk about the upcoming Disney Plus series known as VisionQuest!!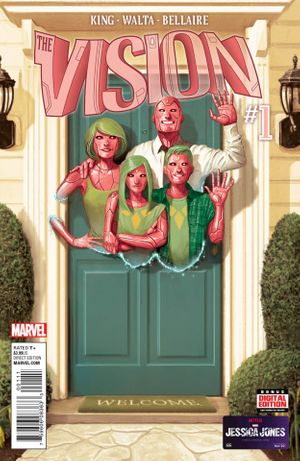 Oh man there is just so much to love about this book from an investing standpoint.  First off, this Vision series is iconic and often counted amongst Marvel's best works this century.  As a result, it is sought after by many collectors and thus unlikely to ever significantly slip in value over the long run.  Second, Vision #1 features the first appearance of Vision's family, including Viv.  Viv is a really great character with a bright future in comics and tremendous potential for a role in the HEAVILY rumored MCU adaptation of Young Avengers.  Third, the plot line of this series is a very logical next step for the MCU's Vision, who is attempting to reconcile reality with the family life Wanda created for them in WandaVision.
Graded Analysis: As of this writing, 57.2% of the books in the CGC census have a grade of 9.8, so the market for any other grades is fairly small.  The book's FMV is somewhat erratic, so buyers will need to be comfortable waiting for their desired price.  Even so, the book is still up all time and has plenty of room to grow, especially as Viv continues to carve out her place in the Marvel Universe.
Fun Fact: Writer Tom King based parts of the Vision story on his own life, including the Washington D.C. location.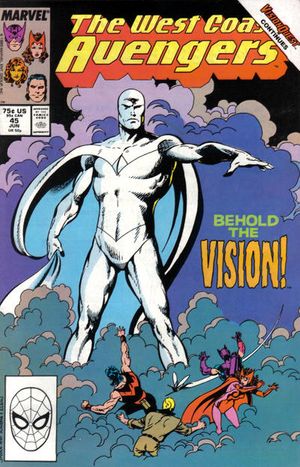 This book features the first appearance of the White Vision.  It spiked in value a couple times and is likely to do so again once the buzz and marketing for VisionQuest begins.
Graded Analysis: As with many MCU books, West Coast Avengers #45 enjoyed a brief spike followed by a gradual decline.  As we get closer to the premiere of VisionQuest, however, I suspect prices will start to tick back up, making now an excellent opportunity to buy low!
Fun Fact: The cover to West Coast Avengers #45 is a direct homage to Avengers #57, which contains the very first appearance of the Vision! (Note, a previous version of this article misidentified the Vision's first appearance as Avengers #52)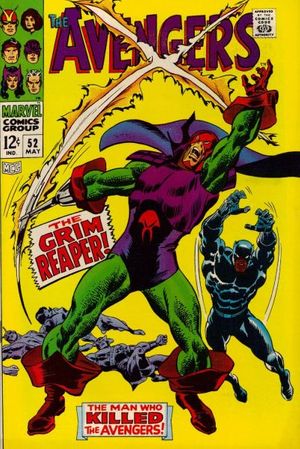 Avengers #52 contains the very first appearance of Eric Williams, better known as the Grim Reaper.  The book is a great MCU spec play because there are several different places the character could easily show up.  In the comics, the Vision's brain patterns are based on those of Simon Williams, a.k.a. Wonder Man.  Eric considers this a desecration of his brother's memory and becomes an archenemy of Vision as a result.  The Wonder Man connection is not really possible in the MCU, but Marvel could still leverage the Grim Reaper's extensive history with the Vision for a storyline in VisionQuest.  This is especially true if Marvel chooses to adapt the storyline started in Vision #1 above.  Failing that, the Grim Reaper could easily show up in the upcoming Wonder Man series.
Graded Analysis:   The FMV for this book is up all-time in nearly every single grade.  In many cases, it has enjoyed well over 100% growth.  If you see this book at a decent price, buy with confidence.
Fun Fact: Wonder Man is not the only person Vision borrowed something from.  The Vision's original body was actually built with parts from the original Human Torch!
*Any perceived investment advice is that of the freelance blogger and does not represent advice on behalf of GoCollect.