This week, Batman #22 has taken the number one spot of Golden Age popularity in comic books. What return trend can we expect for the most popular Golden Age book of the last few weeks? Further, how many ranks has this book advanced?
Batman has been a staple of superhero comics going back 70 plus years. He and Robin practically owned the DC Comics of the Golden Age. For reference, let's define the Golden Age as 1938 to 1956 and the creation of the modern comic book. Also, it was the growth and popularity of the superhero comic as a genre.
Batman #22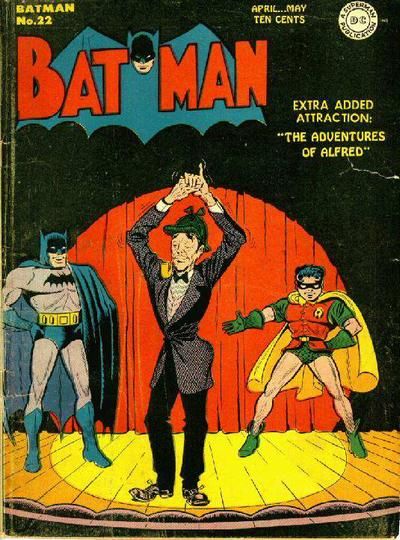 This book was created by Alvin Schwartz and the team,  along with the pencils of Dick Sprang, and Bob Kane, and the art team.  It was published toward the end of WWII on May 10th, 1944.  Batman and the Golden Age are almost synonymous with the popularity of the superhero genre. Batman has risen 998 ranks to dominate the first place, edging out Mad #1 with Wood and Davis.  This is the first Alfred solo story.
Recently, he was killed in the "City of Bane " storyline in Batman #77 in 2019. If you liked this check out the Batman: Pennyworth R.I.P. #1. This has the events in Alfred's life leading to his unfortunate demise.
Unnecessary Roughness
I notice a pattern in the stories and comic issues in the recent comics genre. Really, the comics of the last three or so years or so. Take Pennyworth, I have one question for the writers. Why? I know it makes an easy story but why kill off a harmless side character to the Batman saga? This is just simply grandstanding or lazy writing. After all, why would Bain kill the butler?
The problem with the villains lately is they seem to walk around with the writers' knowledge of plot and character weaknesses.  Let's take Alfred. There is no way Bain could know that Alfred is a prized family member and not just a butler. From Bain's perspective, he might try to corrupt Alfred, but why kill him? After all, he is just hired help from a Bain standpoint. Nope, I have to declare unnecessary roughness on Pennyworth by DC Comics.
| | | | | | |
| --- | --- | --- | --- | --- | --- |
| Title | Grade | Last Sale | Total Sales | CGC Census | Return |
| Batman #22 | 9.2 | $2270 | 2 | 3 | +36.2% |
| | 5.0 | $480 | 5 | 16 | +29.4% |
| | 2.0 | $305 | 7 | 9 | +51.4% |
Bat-Results
Batman and Robin are simply iconic characters going back into our grandparents' childhood. It is very likely that these characters will be alive and well in 200 years when the rest of us are long gone. With the Golden Age, there are so few sales that you really need to take a twenty-year time horizon to suss out the trend returns. Using Batman #22 above as a Golden Age yardstick the long-term results are encouraging especially in grade 2.0 which has a positive +51% return trend.  However, the short-term does not look good for this early Pennyworth solo story and appearance.
Conclusion
When you go out two years the results are less encouraging. Grades 8.0, and 4.0 seeing a decrease of  -15% to -18%. Now the results are scattershot, with some positives in the 5.0 and 3.0 grades respectfully for Batman #22.  Again, this might be a short-term impact from the new upcoming Batman movie or perhaps it is indicative of a larger trend, "Bat-time will tell." 
Level-Up your collecting game with a premium membership from GoCollect!