The interesting thing about comic book speculation is that the moves get crazier the longer you observe the comic book market.  As recently, as of March 3, 2022, some "speculator" purchased Venom: Lethal Protector #1 for around $24,999! Yep, a down payment on a house for a minor key and book that is barely 30 years old. Why? The purchase was for a perfect copy of Venom: Lethal Protector #1 with a grade of 10.0 mint. This was "lethal speculation" pure and simple.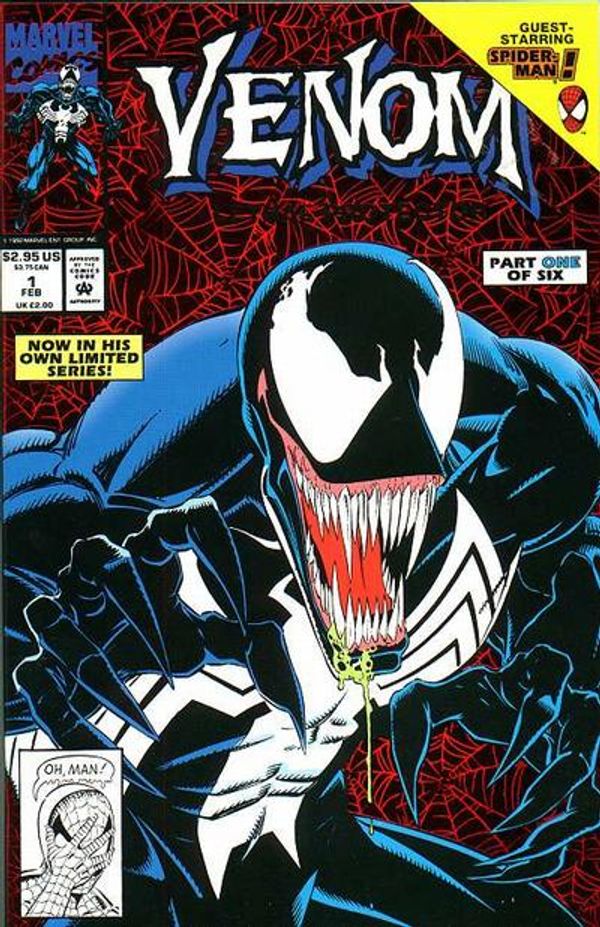 The concept of a perfect 10 is flawed in the first place. Perfection? Even the most beautiful women I've ever seen in my life did not rank perfect 10s. No, this is simply delusional wishful thinking appealing to a crowd that has the money to pay for perfection. I wonder how many copies of this book were sent to CGC before the seller hit a "perfect 10?" 
The consequence for all lower grades of Venom like the measly 9.8; they are simply run of the mill and not as unique to own.  By instituting this perfect grade, the seller has set the pinnacle for this book going forward for others to try to achieve.
Did the "speculator" who bought Venom: Lethal Protector #1 in 10 mint grade make a good purchase? What price did this acolyte of  Venom pay for the perfect book?
Venom Lethal Protector #1 GCC 10 mint
Venom: Lethal Protector #1 CGC 10 MINT
(This Book sold on 3/3/2022 in the range of $24,999. If that isn't enough two make you spit up your JD and Coca-Cola; then I don't know what would! The buyer paid the best offer, which we don't know the exact price, my guess is $18,000 give or take. )
Opportunity Lost
What a waste of money for this book at $18,000 down, rough estimate. Why not buy Amazing Spider-Man #1 grade 4.0 or better yet, a low-grade Amazing Fantasy #15.  These big books will continue to make a big splash far into the future.
This speculator wasted a great deal of money on a marginal key.  Money is not equal to everyone, the uber-wealthy among us can afford these kinds of excessive purchases, but for working-class speculators, this should illicit smears.
Verification – what is that?
On top of opportunity lost, you have to question; is it truly a 10.0? Assuming this book is legit is a mistake by folks purchasing on eBay. Though I am not a huge fan of auction houses, they do provide a vital role in eliminating as many fraudulent pieces from the marketplace.
I know in this age of eschewing institutions, why bother? But auction houses do one good thing very well. They provide another layer of verification that what you're buying is real.  Especially important with big money collectibles trading hands.
Venom Data
| | | | |
| --- | --- | --- | --- |
| Comic | Grade | Price Current | CGC Census |
| Venom Lethal Protector #1 | 10.00 | $24,999 (estimated best offer purchase) | 14091 issues total |
| | 9.9 | $1,080 | |
| | 9.8 | $170 | |
Conclusion
These are the kind of speculation shenanigans that make the news and are fun to write about. For my readers and fellow speculators, I strongly advise caution when buying on the internet. Auction houses like Heritage Auctions are expensive, but they provide a vital role of gatekeeper and verifier of collectibles.
Most truly huge purchases happen on these sights and for good reason.  If you're buying it face-to-face that is a different story, also, most of the LCS have solid integrity when it comes to their inventory. That said, inspect everything about a comic book. Don' take the key comic book for granted that it even has all the pages intact. 
Speculation will never go out of style; humanity craves the action. If not speculating on tulips to the point of  "Tulipmania" in Amsterdam in 1634; then it is speculation on comic books like a mint copy of  Venom Lethal Protector #1 in the 21st Century. 
Please make sure, my fellow speculators, that you avoid this kind of  "lethal speculation."
What would you have paid? Let us know in the comments!
*Any perceived investment advice is that of the freelance blogger and does not represent investment advice on behalf of GoCollect.