For those who may not be aware, Jeff The Landshark is a new character introduced by Marvel in 2019.  The character's adorable nature has made him a fan favorite and launched him into his own ongoing digital comic series on Marvel Unlimited.  The goal of this guide is to provide investors with a FULL breakdown of Jeff's key books so they can know where to look if they decide to invest.  Enjoy!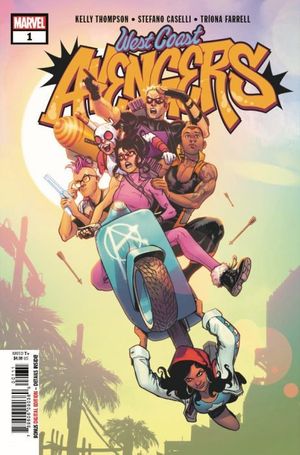 This is (technically) where it all began for our favorite Land Shark.  According to co-creator Kelly Thompson, Jeff was actually something of an accident:
"It all started in WEST COAST AVENGERS #1, with Stefano Caselli's fantastic designs of landsharks that were attacking L.A. The landsharks were just supposed to be a one-off thing for that first story, a fun thing to fight. But in Caselli's beautiful pages I noticed this very concerned landshark in the background. This guy was CONCERNED.  Very very concerned. Like, this guy did NOT want to be here."
There is a lot more to that story, and if you want you can read all about it here, but that is how it started.  From that random, background animal with a worried look on his face came the idea for the world's favorite non-beer Landshark.
This should not be considered a first appearance, but rather a preview or prototype.  It is an interesting artifact in Jeff's creative journey. Still, the animal presented here is still an incredibly far cry from what would come.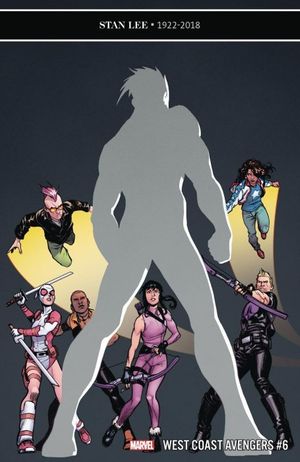 This one is definitely debatable, but my esteemed colleague Topher over at CBSI discussed it in one of his articles, so I feel I should at least mention it.  In one of the final pages of the comic, readers can see Gwenpool in the background being chased by a smaller Land Shark with a smile on its face.
Later on, in the pages of issue #7, Gwen walks over and introduced Jeff to everybody.  There is no certainty that the Land Shark in the above image is Jeff, but I do not think it is an absurd guess.
Kelly Thompson actively maintains that issue #7 is the first appearance of the character, so this would be a cameo at best.  Whether or not a debatable cameo is a worthwhile investment is a question I leave to each of you to determine for yourselves.
This book marks the first official appearance of Jeff The Landshark.  His design does change a bit over the years, but this is where it all truly begins for this adorable character.
Fearless #1 2nd print
This entire series had an incredibly low print run.  2nd prints on low print run books can become extremely valuable, especially if they feature fan-favorite characters like Jeff.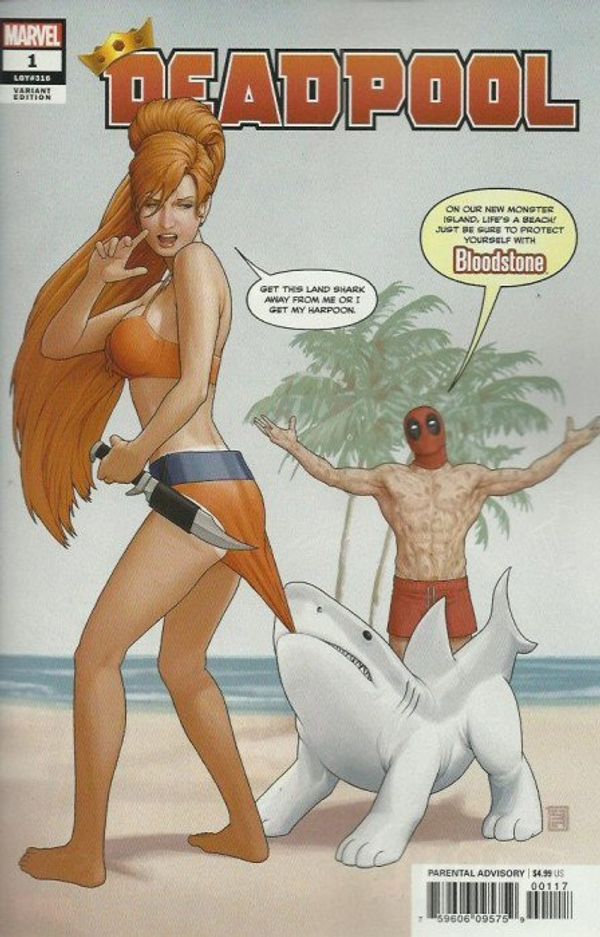 I absolutely love this book as an investment opportunity for so many reasons.  First, it is an homage to a classic Coppertone ad and homage variants tend to do really well.  Second, this book is also a key variant for Elsa Bloodstone. This means the book has multiple strong ways of generating a return.  Third, this entire Deadpool series had a fairly low print run, including its variants, meaning this book is not easy to come by.  Fourth, it really is just a great cover, and sometimes that's enough.
Finally, this is just a great-looking cover from a beloved artist.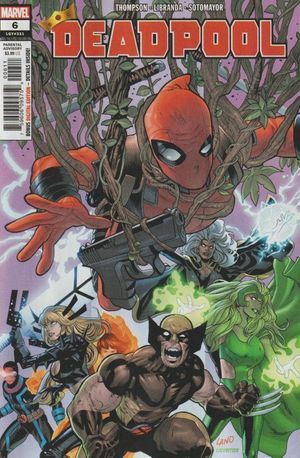 This book marks a significant change in Jeff's character design.  As co-creator Kelly Thompson put it, "I'd say it's the birth of where we have eventually ended up. It's the debut of 'round boi' Jeff – plus 4 legs that are all the same, and no side flippers, and he's demonstrably smaller. He also looks/feels a bit more baby-ish than in the previous iterations."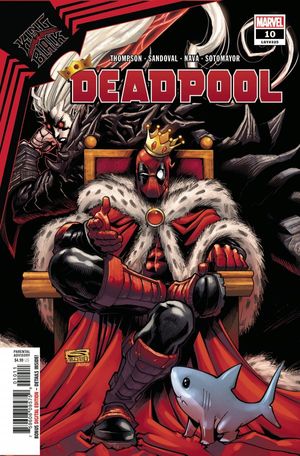 This book has two big things going for it:
Jeff is on the cover
It is a very scarce final issue of a series.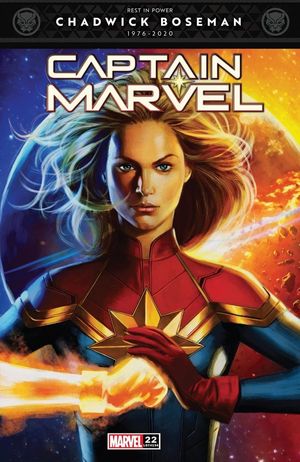 This book contains the first appearance of what I am referring to as "Old Man Jeff", a version of Jeff from a possible future timeline.  I doubt much, if anything, will ever come of it, but I thought it was interesting and thus worth including.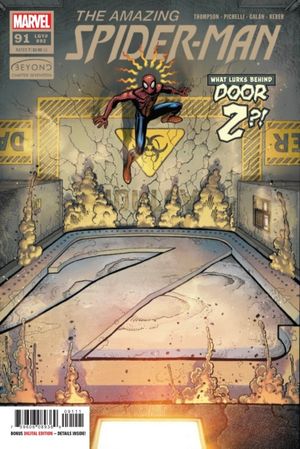 Kelly Thompson was the writer on this issue and managed to sneak in a cameo appearance of a landshark.  It probably is not actually Jeff, but there is some uncertainty so I decided to include it here.
Captain Marvel Vol. 10 39 SDCC variant
This book was given out at San Diego Comic Con 2022 to Marvel Unlimited Annual Plus subscribers.
Captain Marvel Vol. 10 #42 Gurihiru Variant, Captain America: Symbol of Truth #6 Gurihiru Variant, and Shang Chi and the Ten Rings #4 Fuji Variant
Marvel is releasing three variant covers featuring Jeff during the month of October.  As of this writing, no art has been revealed for the Captain America variant.
Gurihiru
Gurihiru is a Japanese artist team that has done a lot of work in American comics, particularly Marvel Comics.  Like many of you out there, Gurihiru absolutely loves Jeff, so much so that they frequently incorporate Jeff into the background of their comics.  Can you find Jeff in each of these covers or panels?  I will give you a hint – you can find Jeff 14 times.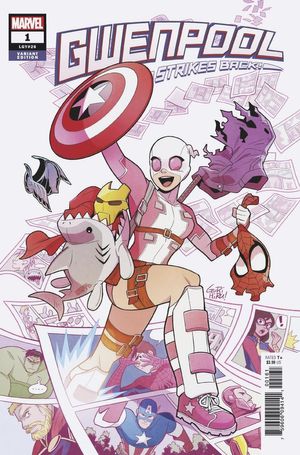 Heroes At Home Variant Covers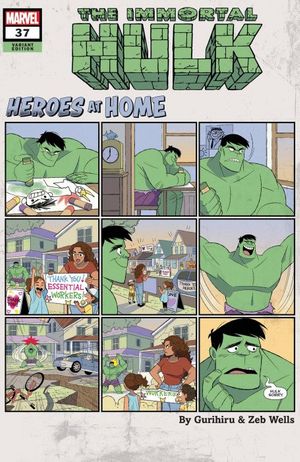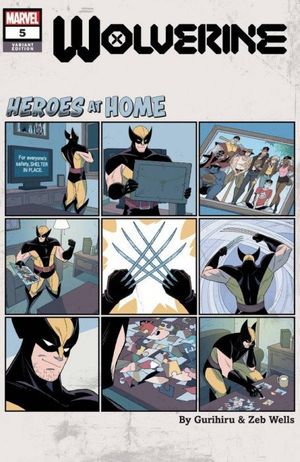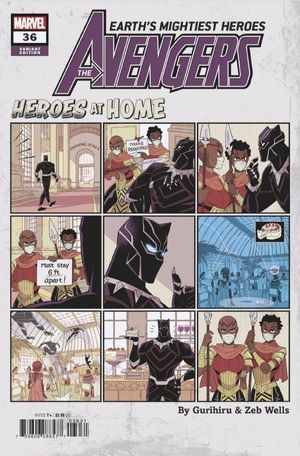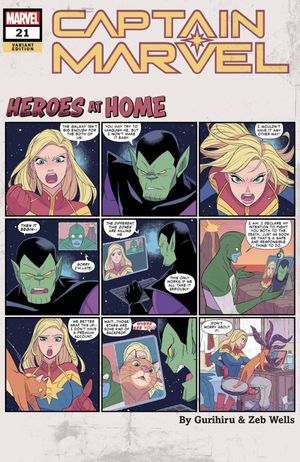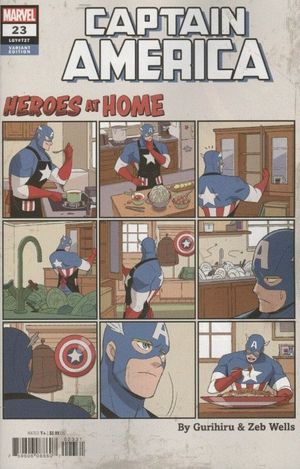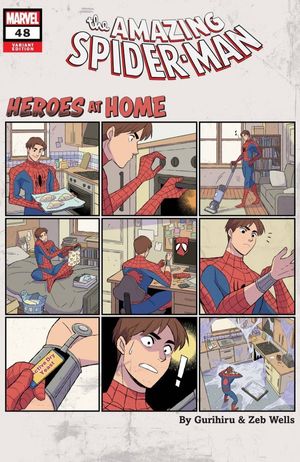 Heroes At Home Trade Paperback
Spider-Man / Venom: Double Trouble
Power Pack: Grow Up!
Locations
Gwenpool Strikes Back #1 Gurihiru Variant – Gwen is holding a Jeff The Landshark backpack
Gwenpool Strikes Back #1 Gurihiru Variant – just to the left of the backpack is a comic panel wthat features Jeff
Immortal Hulk #37 Heroes At Home Variant – In the second panel on the left side there is a Jeff The Landshark figure sitting on top of the clock
Wolverine #5 Heroes At Home Variant – In the picture that Logan is holding, Iceman is wearing a T-shirt with Jeff the Landshark on it.  You can also see that shirt in the first and fourth panels, but since its technically the same image three times I only counted them all as one
Avengers #36 Heroes At Home Variant – In the eighth panel right around T'Challa's waist level, you can see several outlines of Jeff carved into the table
Captain Marvel #21 Heroes At Home Variant – In the ninth panel on the right side you can see a coffee cup with Jeff's face on it
Captain America #23 Heroes At Home Variant – In the second panel you can see a Jeff sticker on the fridge
Amazing Spider-Man #42 Heroes At Home Variant – In the fourth panel you can see Jeff on the folded shirt on Peter's bed
Heroes At Home Trade Paperback, Panel #1 – Jeff is on the TV screen
Heroes At Home Trade Paperback, Panel #2 – The small child on the left is holding a balloon with Jeff on it
Spider-Man / Venom: Double Trouble, Panel #1 – Jeff is on the right side next to the front-right leg of the tub
Spider-Man / Venom: Double Trouble, Panel #2 – Jeff is in a picture frame to the right of Venom's head
Spider-Man / Venom: Double Trouble, Panel #3 – This is easily the hardest to spot.  If you look just below the very first "SQUEE", you will see Jeff
Power Pack: Grow Up! #2 – Jeff is in a picture just to the right of one of the word balloons.
Conclusion
That's it for this investment guide!  I hope you enjoyed the article and the Where's Waldo-style game at the end.  Make sure to check back soon for another complete investment guide!
*Any perceived investment advice is that of the freelance blogger and does not represent advice on behalf of GoCollect.