A long time ago, in a Galaxy Far, Far Away…STAR WARS!!  There are few franchises more beloved than this legendary George Lucas creation.  To celebrate it, we are going to look at some of the greatest and most interesting Star Wars comics out there.  Today's focus: the Disney era of Star Wars Comics!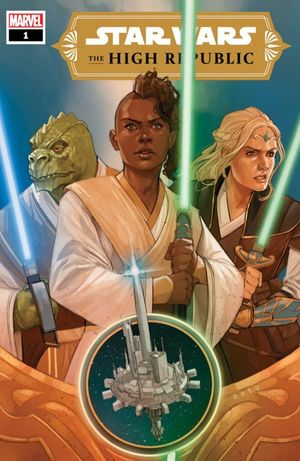 The High Republic represents a really interesting investment opportunity for Star Wars.  First off, it represents the largest (canon) departure from the Skywalker era in the franchise's history.  Second, Disney has made it abundantly clear that the High Republic will be appearing across multiple forms of media, including television and film.
Finally, it is a chance to redefine what a Star Wars story can be for a whole new generation.  With all of that in mind, investing in the book that started it all seems like a no-brainer.  The problem, however, is that everyone and their mother seems to be aware of that.
Graded Analysis: Take a moment to look at the census counts for the various editions of Star Wars: High Republic #1.  The A cover has 3756 copies.  The 1:25 Sway variant has 753 copies, which is insanely high for a ratio variant.  The Hans variant has almost 2.5k copies.  Even the 2nd, 3rd, 4th, and 5th printings each have census counts over 200.  That kind of high availability could significantly dampen the growth potential of any version of the book, possibly even limiting it to little more than a temporary spike.
I am not saying people should not buy this book.  Rather, I am attempting to emphasize that this book is widely available and that investors need to calibrate their expectations accordingly.  If Disney absolutely knocks the High Republic era out of the park, none of this will probably matter.  Anything less, however, and investors may only have a small window to generate a meaningful return.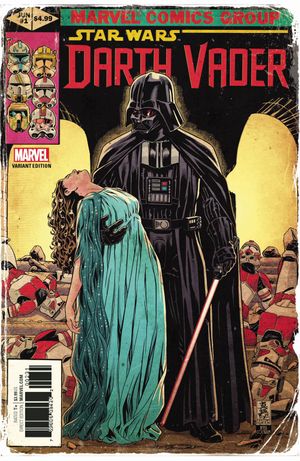 This book is an absolutely phenomenal homage to Uncanny X-Men #145.  In an era of comic book publishing where uninspired homages are a dime a dozen, this variant stands far above many of its peers (Looking at you, endless series of uninspired Amazing Spider-Man #300 and Spider-Man #1 homages).
The brilliance of the work lies in several small, subtle differences that meaningfully re-contextualize the image.  The original cover is designed to position Dr. Doom as a celebrating conqueror who has just defeated his enemies (in this case, the X-Men).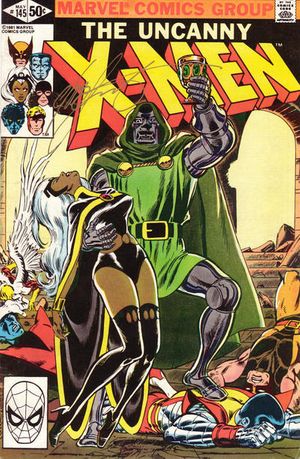 Brooks' variant, however, takes things in a different direction.  While Doom is looking up and holding his goblet in triumph, Vader has his saber pointed down and looking left at the limp body of his lover Padme.  Rather than triumph, there is an atmosphere of tragedy, specifically Vader's failure to save his beloved.
By using the familiar iconography of Uncanny X-Men #145, Brooks is able to quickly establish expectations and familiarity, which makes his subsequent subversion of them all the more effective.  It is a brilliant piece that taps into the fundamental tragedy of Darth Vader and accentuates the book's narrative focus on a version of the Sith lord who is still finding his place in the dark side.
Graded Analysis: As of this writing, 68.2% of the CGC Universal census is 9.8s, so investors should not look toward any other grades.  Over the lifetime of GoCollect's data, the book is up over 270% (adjusted for inflation).  That is a phenomenal growth rate, especially for a book that lacks meaningful first appearances.  If you can get your hands on this book, do it.
Make sure to check back soon for another episode of Star Wars Spec!!  Next time, we will be focusing on the beloved Dark Horse era of Star Wars comics.  Until then, may the force be with you!
*Any perceived investment advice is that of the freelance blogger and does not represent advice on behalf of GoCollect.