Neil Gaiman's Sandman comic changed the preconception about who the average comic book reader was. With a new series in production at Netflix, smart collectors are stocking up on key back issues. Gaiman's goth-girl embodiment of Death was the comic's breakout star. What are Death's key issues that we should be investing in now?
Death and Taxes
They say two things are inevitable in life: Death and Taxes. This is rarely a statement of optimism, but in the comic collecting hobby both of these dark clouds have silver linings. Capital gains are not assessed until after an asset is sold. Thus, converting cash into collectibles can be a tax haven. And since DC's Death of the Endless is about to become immortalized on Neil Gaiman's upcoming Netflix adaptation of his Sandman comics, even Death's inevitability can provide a glimmer of hope.
A look back upon the FMV of Sandman #1 (the 1st appearance of Sandman aka Dream aka Morpheus) shows how this has become a hot property with a rate of increase over the last year of 27% for a CGC 3.0 to 1000% for a CGC 9.8. Using that same GoCollect modeler to look at Sandman #8 (the 1st appearance of Death) showcases an even higher rate of increase: from 55% for a CGC 3.0 to over 1000% for a CGC 9.8. Each grade has appreciated to the point that these two comics in 9.8 are already priced out of range for most. That's true, even if these prices may soon look like bargains. Luckily, there are so many additional, important keys in the Sandman universe –and particularly revolving around Death.

Life After Death
While almost everyone is aware of Death's first appearance, there is no label on Sandman #13 to let you know that it is her second appearance. As such, this is an incredibly undervalued key issue. While it has become notable as the first appearance of Johanna Constantine (aka Lady Constantine), it also happens to be the first appearance of the character Robert "Hob" Gadling –a fan favorite almost assured to appear in the Sandman Netflix series. Bearing a publication date of  February 1990, this is also among the first mainstream American comics to mention AIDS. The first reference to the pandemic can be safely attributed to Sandman #5, but here it forms the basis of a consequential conversation. This gives it an historical significance that transcends even the fine narrative within the comic book canon.
The confirmed casting of The Corinthian earlier this year is evidence of an adaptation of the story arc, "A Doll's House," to which this issue also belongs.  With an FMV of $160 compared to average sales so far this year of $450 for the Corinthian's debut in Sandman #10, this issue really is a bargain.
Origin of Death
The first version of Neil Gaiman's Death was by Dave McKean, whose painting of a British Goth girl graces the cover of Sandman #8. He would illustrate her again in the free promotional comic, Death Talks About Life, which was controversial in its day for frankly discussing birth control. Death explains the nature of AIDS while dispelling myths about it. As part of a safe-sex demonstration, Death properly applies a condom onto a banana.
Again, this offers an inexpensive option to own an early Death appearance in a standalone title written by Neil Gaiman and with a Dave McKean cover and interior art. There was an outlier sale of a CGC 9.8 for $201 back in February of this year. Still, it is generally attainable for $100 or less in that grade. There are fewer than 60 in all conditions on the census. How has this has remained so under the radar as other Death appearances have risen in price? It is a simple matter of most people just not knowing it exists.
Going Solo
Of course, the artist most associated with Death is Chris Bachalo, who illustrated her first solo title, Death: The High Cost of Living (and the follow-up mini-series, Death: The Time of Your Life). Like the Sandman series that spawned it, the Death mini-series was written by Neil Gaiman and all three issues have incredible cover art by Dave McKean, with perhaps the best adorning #3. But the first and only cover art featuring Death by Bachalo (until 1996's The Books of Magic #25) was on Vertigo Preview #1, which predates the release of Death the High Cost of Living #1 by three months, and also features an exclusive new Sandman story from Neil Gaiman and Kent Williams (also showcased on the cover).
What to Note About Death's Key Issues?
What will you quickly discover after falling down this particular rabbit hole? Very few Vertigo comics have much data available. The fanbase for Vertigo titles was loyal and voracious, but those comics were read and enjoyed. That usually leads to the kind of wear and tear that dissuades submission to a grading service. That's precisely what makes a lot of Vertigo titles great investments as high-grade raw purchases.
The Books of Magic #4  features a stunningly gorgeous Charles Vess illustration of Death on the cover, and there are currently no graded copies on the census. There are no copies on the census for most non-key Vertigo comics. In addition, there are many of Death's key issues that have yet to be identified as such. This presents a great opportunity for a true fan with vast knowledge of these comics to make a killing.
There are twenty-two issues in the original Neil Gaiman Sandman series that feature Death. Some are fleeting glimpses, some are flashbacks, and some are more substantial.
Best of the Rest
Issues #71 & #72, coming near the end of the series run (with #75 being the final issue) are key in that they are the last issues to feature the full family of The Endless as part of the original Sandman story. "The Wake" is an important predecessor to Gaiman's multiple award-winning, two-issue story, "Whatever Happened to the Caped Crusader?" in Batman #686 and Detective Comics #853 (also massively undervalued comics).  If you come across a high-grade second printing of #75 in the wild, snatch it up, as it is exceptionally rare. It is a significantly brighter shade of green. It has been known to instill the appropriate degree of envy one might assume from its color.
Among the rest of that original run, Sandman Special #1 is perhaps the best spec choice among Death's key issues. Its a novelty comic, in that it has a glow-in-the-dark cover (albeit one much more subtle than the cover of Ghost Rider #15), and it has the highest page count of any single issue in Gaiman's original Sandman run, but most importantly it's a kind of origin issue for the titular character. I say "kind of" because there are many disparate elements to the Sandman known as Dream. Still, this issue is the most definitive in presenting a creation mythology that is otherwise absent from his backstory.
Unacknowledged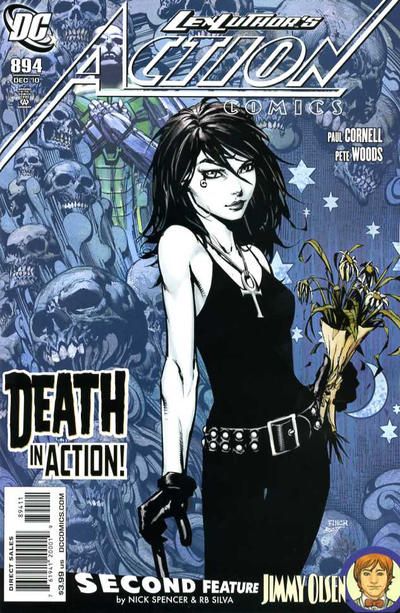 When DC realized they had a hit with Death, they were quick to try and exploit her, and that led to some noncanonical appearances, unsanctioned by creator Neil Gaiman. The most egregious of these was in Captain Atom #42, which nonchalantly includes her among other DC Comics representations of death, including Nekron and the Black Racer. This is said to have greatly upset Mr. Gaiman, which led to a more respectful arrangement between DC and the award-winning author about how his characters could and should not be used.
Ten years later, Death would feature in Lex Luther's demise in a three-issue run of Action Comics. The issue to have is the one with Death on the cover. That's Action Comics #894 with a very J. Scott Campbell-esque cover by David Finch. There is also a rarer variant with cover art by Sandman alumni P. Craig Russell, with an only slightly higher FMV of $170 in CGC 9.8. The Finch cover, while more common, is the more desirable of the two. This is because Death is much more pronounced than on the Russell cover.  For comic book collectors that favor superhero comics, this offers a Death key that will better match their collection than the more avant-garde, mixed-media artwork of Dave McKean.
What do you think? Will you be snapping up some of Death's key issues? Tell us in the comments!