One of the most popular forms of comic book collecting centers around covers and cover artists.  Every so often, an artist is able to find a style that comic book fans just cannot get enough of.  Today, we are going to discuss one such modern master: J Scott Campbell!
First Cover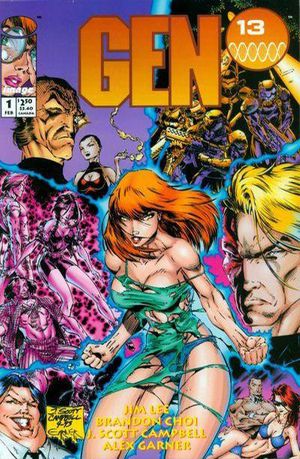 Campbell's first true work as a cover artist was for the inaugural issue of Gen13, a story about a group of teenagers with superpowers on the run from the law.  This cover already features many of the elements that Campbell would become known for, particularly pinup style art of buxom redheads (more on that in a moment).
Gen13 was initially fairly popular, but over time has somewhat faded into obscurity, particularly with DC's absorption of the Wildstorm Universe.
Graded Analysis: For both Signature and Universal graded books, 9.8s make up more than half the census, so the analysis will be focused there.  In both cases, prices have been incredibly cyclical and did not tend to go above or below certain ranges, especially not for long.  That means that potential buyers need to exercise caution and wait for the right deal.  The only way to make money off this book is if you get in at a low enough price and have the patience to wait for a higher offer.
(In)Famous Cover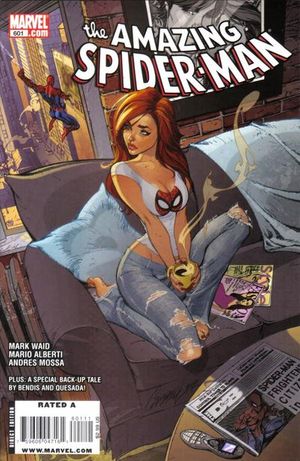 As I mentioned before, JSC definitely has a thing for redheads.  With the possible exception of Black Cat, Mary Jane is Campbell's most frequent cover subject.  This cover has long been popular with Campbell and Spider-Man fans, but it is also not without detractors.  Many took issue with Mary Jane's anatomy and the awkward, uncomfortable pose she is depicted in.  The discourse around the cover eventually reached such a point where Campbell even made fun of himself and the cover in the pages of Marvel Comics #1000.  Tensions reached a new level when a Tumblr user "fixed" Campbell's art on this cover, which prompted a strong response from Campbell itself.  The resulting controversy drove up prices for this already expensive book even further and made it even harder to obtain.
Graded Analysis: Pricing behavior for this book has been fairly consistent across the different grades.  Though there are numerous small peaks and valleys, the long term growth of the book is undeniable.  Those looking for a long term investment should feel comfortable picking this up at most prices, while flippers will need to be MUCH more diligent.
High Value Covers
Campbell has produced some of the most valuable and sought after comic covers out there.  This list is far from exhaustive, but includes many of his most prized works.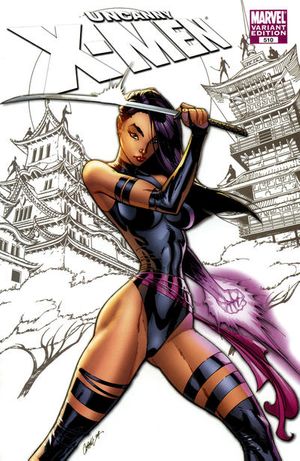 This sketch variant was only distributed at Heroes Con and San Diego Comic Con in 2009 and as a result is exceedingly rare.  Per Recalled Comics, the print run is estimated to be well below 1000 copies.
Graded Analysis: There are 59 copies of this book in the CGC census, though only 1 of them has had a sale in the last year.  That sale was a 9.8 Signature Series edition and it sold for $18,000!!!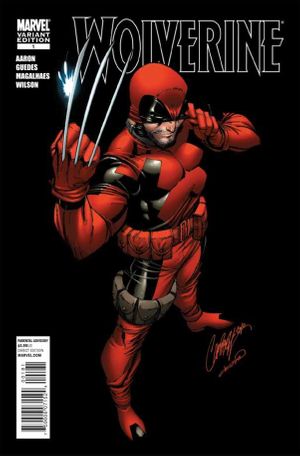 This book was and is incredibly difficult to obtain.  It was only available to retailers who returned 50 stripped covers from very specific books.  Naturally, many retailers balked at that prospect and, as a result, very few copies ever made it out into the wild.
Graded Analysis:  Of the 190 copies of this book in the CGC Census, 118 are Universal, 67 are Signature, 3 are Restored, and 2 are Qualified.  The current FMV for a Universal 9.8 is $6,750, while for a Signature 9.8 the FMV is $10,500.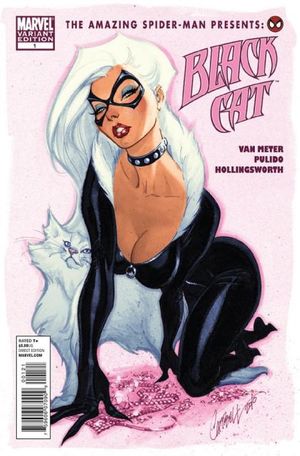 Yeah…I cannot imagine I need to explain what people like about this cover.
Graded Analysis: 9.8s, which represent almost 60% of the CGC census, are, adjusted for inflation, up over 830%!!!  The current 9.8 FMV is $2,000.  9.6s are up 728%, with a current FMV of $1,300.  The book is up in all other grades with multiple sales as well, though the growth is nowhere near as stratospheric as it is for 9.6s and 9.8s.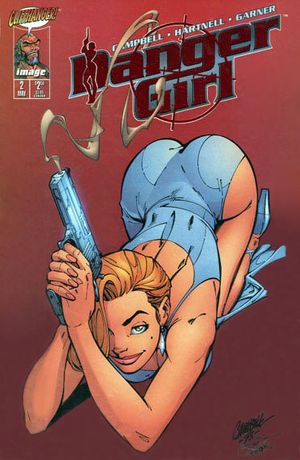 Campbell eventually left Gen13 so he could work on his newest creation, Danger Girl.  Danger Girl is an extremely fanservice-y comic about a group of female spies.  Though the series will certainly never be mistaken for high art, it definitely has a devoted following.  This specific book is the rarest of several variants that Image produced for the book, with an estimated print run of 400.  With a potential Danger Girl film on the horizon, now could be an excellent time to buy.
Graded Analysis: GoCollect's data only shows 6 registered sales of this book, all of which were in the last 5 years.  9.8s, which represent 42.9% of the census, are slightly down all time, but a big part of that is a major outlier in 2018.  The current FMV for 9.8s is $6,750.
*Any perceived investment advice is that of the freelance blogger and does not represent advice on behalf of GoCollect.