What books might help us trend-analyze Joan Jett's new graphic novel? Further, are their posters that can be tied into Joan Jett that have made money? Music posters are popular and a solid collectible market, similar to comic books. Finally, what is the best purchase for comic book collectors from a price standpoint?
You know her music if you have listened to a radio at all in the last forty years. One of her greatest hits "I Love Rock 'N Roll" has had homage tracks and gimmicky transformations thrown at it, but no one sings it quite like Joan Jett. She is a trendsetter and, most importantly, her music is a piece of American pop culture that simply inspires. Comic book collectors and speculators know the success of certain print runs of Kiss and Alice Cooper.
Branching Out
Well, in that vein, Joan is putting out a graphic novel and TPB that could well become as valuable as the aforementioned rockers comic books. It is called "Joan Jett and The Blackhearts- 40 x 40:" Bad Reputation/ I love Rock "n" Roll" by Z2 Comics. Let's take a look at her posters and peer comic books like Alice Cooper and see if there is "Love All Around" for this potential speculative comic book or simply "Playin' with Fire!"
Collectibles Everywhere
Joan started years ago with bands like "The Runaways" and nowadays an original poster of a Wisconsin 1976 concert sold for $1887.50 in August 2020. See the link attached to the top of the poster to the right.
Other collectibles are valuable, like a signed guitar for $300, but the posters are truly unique and rare, as they weren't anything worth keeping back in the day. They were cheap advertisements and were often thrown away. Now, yep you guessed it, that makes them rare and valuable. Let's compare this to the potential of a comic book. For instance, Alice Cooper.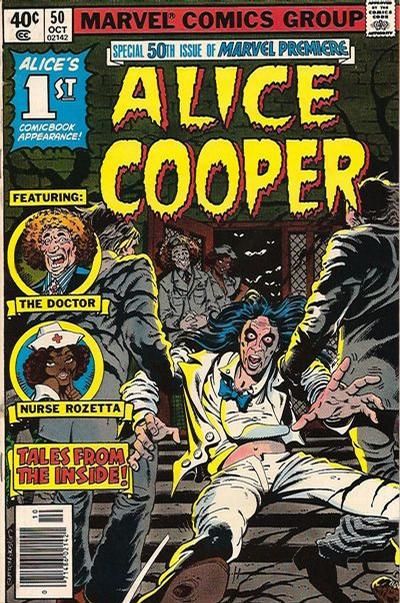 Alice Cooper in Comics
Another age-old name in rock is Alice Cooper. He did a comic book for Marvel: Marvel Premiere #50. This was his first appearance and over the years has become popular and in near mint has been valued at several hundred dollars. Now I have heard he bites off bat heads or some other nonsense; I am sure it is all hype, but fun to write about. The lengths artist go to…
Title
Grade
Price
Return Trend (2 Years)
Notes
Marvel Premiere #50 (This is a surrogate for Joan Jett's 40 x 40 Bad Reputation comic)
9.8 (Near Mint)
$323
+13.5%
This is how Joan's comic book could end up doubling in price potentially.
The Runaways (W/Joan Jett 1976 Madison, WI Concert Poster
Very Good Condition
$1187.5
+50% (based on projected not actual sales see note to the right.)
It should be noted the new owner has this for sale on HA for $1781. That would represent a +50% return!
Joan Jett and The Blackhearts- 40 x 40:" Bad Reputation/ I love Rock "n" Roll"
Near Mint
$179
N/A
DELUXE EDITION (OVERSIZED HARDCOVER, LIMITED EDITION OF ONLY 3,000) INCLUDES:

Oversized Hardcover Deluxe Edition Graphic Novel

Graphic novel "Jukebox" Clamshell Case

Three (3) Exclusive Art Prints
Joan Jett & The Blackhearts White Blackstar FLY 3 Mini Guitar Amplifier
Joan Jett & The Blackhearts "Dime" metal collector's coin
Conclusion
The deluxe edition is only 3000 prints. With this limited edition you get a ton of material with the comic. All this comic book needs is a Joan Jett signature and watch the price skyrocket!
I picked the Marvel Premiere #50 as it is comparable in star status and potential print run. My guess is there will probably be more of the Marvel Premiere #50 in existence than Joan Jett's first graphic novel. It looks they have put together several choices and different limited runs, but I like what I posted here: the deluxe edition hardcover. It is limited to 3000 and the price point is right for collectors.
The original poster is truly a beautiful piece of rock history and early Joan. With a potential +50% upside, what is not to like? In regards to the comic book, speculators should try the Deluxe, and for collectors probably Platinum edition. For the investors- definitely pick up any copy, preferably just the regular old initial print of this comic.
This book is speculative in nature and collectible in rarity. Tune in to Joan and pick up a copy of her recent comic. It isn't a foil cover or lenticular, but it just might be worth something in two years' time. Rock on!
Want more stats on all the coolest posters? Check out our one-of-a-kind Concert Poster Price Guide!