Well, folks, I think we've seen it all in comics. Now NFTs are launching a collectibles assault on the comic book market.  How do NFT copies of our sacred comics impact the real comic book collectibles market? Of one thing, there is no doubt; this is pure speculation on steroids. It might help us to know what NFT means?
NFT stands for Non-Fungible Tokens and is different than digital copies. The NFTs are "unique cryptographic tokens that exist on a blockchain and cannot be replicated" (Source: Investopedia). Think of it as a special unique digital copy of something specific, like say a comic book.  For instance, the ever-popular Amazing Spider-Man #300 simply defies gravity and is very collectible. If you took and made it on a blockchain it would be unique and an NFT. 
Can anyone guess Marvel's next move? Yep, they are selling digital comic NFTS using the VeVe website and app. VeVe is an app for holding NFTs and creating a market platform to buy and sell your NFT collectibles on. You have something akin to a wallet in your account that holds your digital copy NFTs.
Is this a safe speculation? Will these NFTs become part of our investment portfolios or is it just titillation?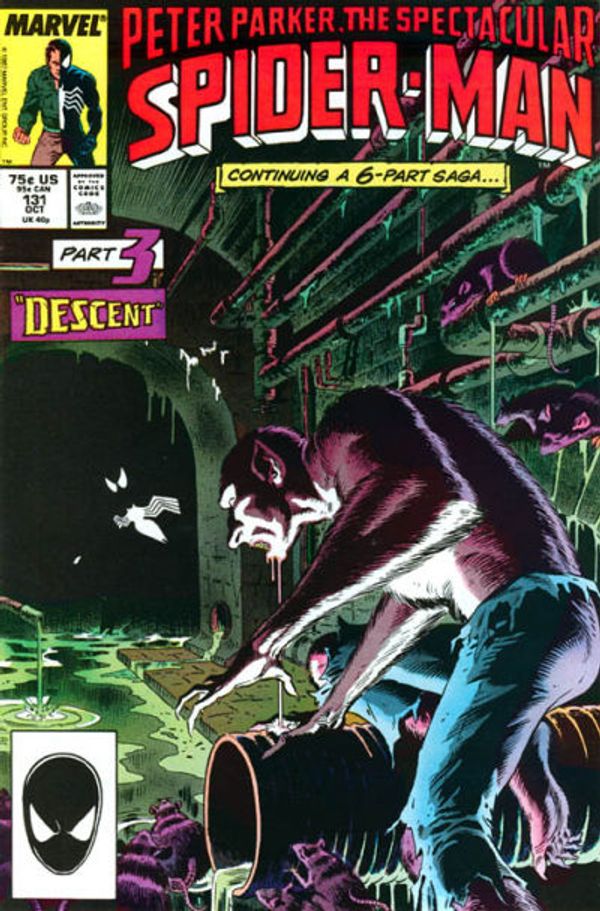 My Experiment with NFTs

I wanted to understand this phenomenon; so I went on VeVe and purchased Peter Parker The Spectacular Spider-Man #131. It is the saga with Vermin and Kraven the Hunter. This darned NFT which I probably own 3 copies of the physical version; ended up costing me $14.95 for the NFT version.
After purchasing, I noticed that the current market value for my copy of Peter Parker The Spectacular Spider-Man #131 was around $6 on the open Veve market for that book (side note, you have to buy "gems;" you can't use real money. Then, the gems are traded like money). What happened to me? In the blink of an eye, as soon as I purchased the NFT book I was losing money. To the tune of about a negative -60% loss for Peter Parker The Spectacular Spider-Man #131. Thanks, Marvel!
Is this a precursor of more bad news to come? Unknown. The NFT market has been gaining strength in other things, primarily art and sports cards. Why not comics? I wonder, could Marvel sell their books through multiple platforms like VeVe? Meanwhile, claiming each is unique to that particular site, food for digital thought? The entire thing seems to appeal to the next generation and might take off if people start to value what they own digitally more than a physical item.

Pyramid Scheme, or Future Speculation?
This reminds me of the old pyramid schemes where you get people to contribute money to some investment longshot. The first people in the scheme make out like bandits and everyone else looses money as, eventually, the pyramid just collapses. Then, the authorities show up and the originators of this scheme get nice shiny new bracelets called handcuffs.
However, do NFTs fit this particular model? I think we should take a moment to consider NFTs as a new medium for our portfolios, perhaps.
Marvel Money Maker
Marvel Comics is probably making a ton of money selling these. They don't have to ship anything anywhere. A very knowledgeable comic book retail professional believes when they stop printing comics the prices for the originals will blow up.
Could the NFTs be the beginning of that process? They might very well be the beginning of the end of printed comics. If that is the case, then we could be looking at another huge uptick in prices for comics as collectibles.  Think of this, what is to stop a normal person from creating an NFT out of their existing comic book collection? 
Conclusion
In the final analysis, this Brave New World of NFTs appears to be catching on. If more, and more people, acquire and seek out digital NFTs of their favorite collectibles; will they stop buying the physical copies in the first place?  This is unknown. However, I think NFTs will have a positive impact to drive comics even higher. 
As with any potential investment or speculation, tread cautiously.  However, speculators that have made money in comics should not be afraid to dabble and be part of the NFT assault on collectibles. Remember, as the Roman poet Virgil  once said, "fortune favors the bold." 
Have you considered comic NFTs as an investment? Let us know in the comments!
*Any perceived investment advice is that of the freelance blogger and does not represent investment advice on behalf of GoCollect.