At the time of this writing, the World's Finest Comics #71 has fallen 145 ranks to end up at 152nd in the GoCollect rankings. Find out why this heroic team-up of Superman and Batman is spiraling downward. What could have caused this super team up to be rejected and lose so many ranks? What grades have been heavily sold? How has this decline impacted the return trend? Who could win in a fight, Superman vs. Batman? As kids, these kinds of silly arguments went hand in hand with trading baseball cards, reading comics, and eating pizza with your pals.  Unfortunately, we had to wait until Zack Snyder showed up 40 years later and created Batman vs. Superman: Dawn of Justice, the ultimate movie for fans of these two characters.
But, as eventually happens in most comics, the two opposing heroes realize after a good tussle that they are working against each other, and inevitably a team-up ensues.
This brings me to the latest ejection from the Top 100 Golden Age books.
World's Finest Comics #71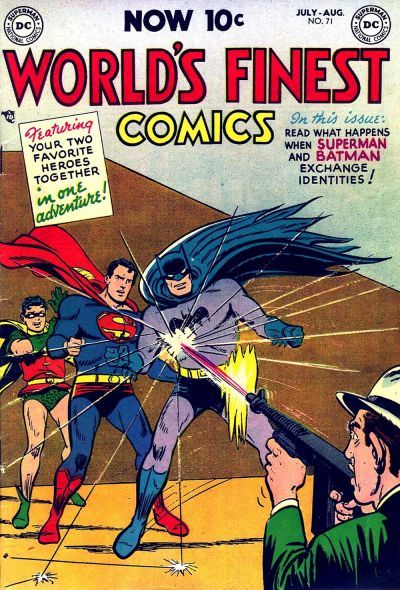 The Ultimate Team-Up
"Superman and Batman team-up begins with the first team-up in title in the first 10 cent issue (GoCollect.com)." This was first sold in stores on the rack back in 1954.
World's Finest Comics #71 was written by the team of Alvin Schwartz, Ed Herron, Dave Wood, Henry Boltinoff, and Jack Miller. Dc Comics hired the art team of  Win Mortimer, Curt Swan, George Papp, Nick Cardy, and Henry Boltinoff.
A Book of  "Firsts"
This one book started a decades-long tradition of team-ups between the characters in the pages of World's Finest and the first story where Batman and Superman exchange identities.
For those of you that want to read this and cannot afford the GA fare; in that case, try Millenium Edition World's Finest Comics #71 (2000).
CGC Census
The majority of the sales of this book in 2021 were between fine-minus and good-plus (2.5 to 5.0).  CGC has a total number of books outstanding, out of 129 only 122 are Universal Grade.
How is the Universal Grade Census relevant to this book? It gives us a rough idea of how many outstanding copies have changed hands vs. simply the total outstanding.  Apparently, 9 books traded owners over the last six months. That represents 9.2% of the outstanding books per GoCollect.com CGC Census inventory. This means, roughly, that one out of every ten of these books were sold, enough to definitely give it the Spock's eyebrow salute.
Return Trends World's Finest Comics #71
| | | | |
| --- | --- | --- | --- |
| Title | Grade | Ranking Decline (Recent) | Return Trend 2 years |
| World's Finest Comics #71 | 5.0 | 152nd Rank / Decline 145 | -23.6% |
| | 3.5 | | -26.3% |
| | 3.0 | | +79.5% |
| | | | |
Conclusion
Over the last two years, there have been trend return declines in the double digits from grades 2.5 to 5.0 and above. Though, I have only cataloged the last two years for this article.  There are a couple of bright spots, though. The higher-end comics have barely moved and some have even increased in value. The mid-range has shown small growth and strength as well. The lower grades as noted above have not been made of steel. There, Kryptonite is perhaps the chaos surrounding Zack's last two Superman movies.
In my humble pie opinion, Snyder is nothing less than a genius with imagery. His storytelling is eye candy in this regard. His plot devices can be clunky, but you can tell this guy is a huge fan of the material.  He, unfortunately, had some personal family issues and some contention with the studios, shocker!  I could do a whole blog on corporate managers trying to dictate creatively that has almost ruined some classic movies.  Needless to say, these hiccups may account for the decline in returns for World's Finest Comics #71.
Without a new movie on Superman or the Justice League, it might be a while before these low-grade books show signs of a trend pulse.  My money in any superhero rumble is on Batman. Quite simply, he comes prepared just like any good investor should. The bottom line is World's Finest Comics #71 is a book you should buy and hold despite transitory current trends.
Keep up with ALL the trends with a Premium Membership!