After you have been collecting for a bit, you realize certain keys and sub-keys tend to hold value over time.  A key can be first appearance, second appearance, death, new power used, team-ups and crossovers, cameos, and of course origin stories. Is the origin story the second most important key to the comic book collecting world? Some would probably pick the cameo or the second appearance, but I feel the origin is the most important of the keys other than the first appearance. Therefore, it stands to reason that reprints or retelling in this case, of origin stories, are themselves valuable. How do retellings of an origin story hold up to the original?
For our purpose of sifting my simple thesis of the value of retold origin stories, I decided to use one of my favorites, Fantastic Four #126. Does Fantastic Four #126 have solid return trends for a comic book from the Bronze Age and as a retelling? Are there multiple reasons to buy this book?
Fantastic Four #126
This is a retelling of the origin story of Fantastic Four #1. Also, it is a cover swipe of that original FF#1 cover as well. This book is kind of a twofer so to speak. This secondary key is one of the best books of the 100-200 series of the FF run. If you can find one in good shape say near mint minus or better make sure it is not faded and has a bright cover.  Personally, I think this book is the best of the 100 series FF books.  This book was created in 1972 by Roy Thomas and the art of John Buscema with Joe Sinnott inks.
| | | | | |
| --- | --- | --- | --- | --- |
| Title | Grade | Last Sale | CGC Census | Return (2-years) |
| Fantastic Four #126 | 9.8 | $595 | 9 | +90.6% |
| | 9.4 | $150 | 41 | +21.5% |
| | 8.5 | $55 | 13 | '+80% |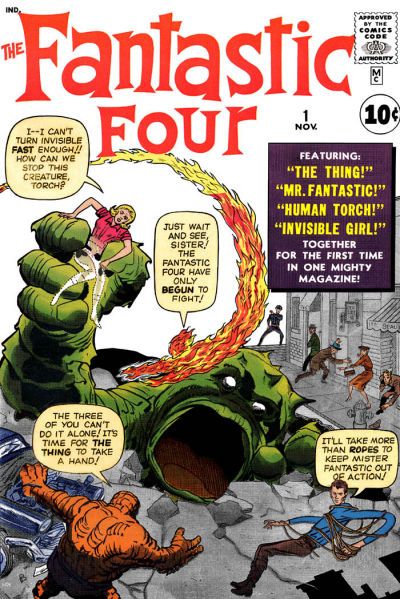 The cost of this book has obviously gone up substantially; is it due to the "all boats rising" nature of the comic book assets all going up in price over the pandemic time or simply the popularity and catalyst of a potential new movie for the Fantastic Four franchise. My guess probably the latter, not the former, catalyst baby, catalyst!
Fantastic Four #1 is unreachable by most of us, but what a great cover huh? Not to mention this is a multi-key: the first appearance of the Fantastic Four, the first comic published under the name Marvel, also the first appearance of Mole Man, and let's not forget the origin story of the FF. This book was created by Stan Lee with Jack Kirby on pencils.
Conclusion
The Fantastic Four #126 has been a fantastic book to own. These books and many more like them can still be acquired in your LCS (local comic shop). The retelling of an origin story is a very strong key book for any character.  But most especially, the first team of superheroes created at Marvel: The Fantastic Four.
The results of return trends on this book are incredibly positive and profitable. Over two years this book in a 9.8 grade near mint to mint is positive +90%. That is almost a 100% return over two years! Don't miss out on this reasonably priced retelling of such a "fantastic" story.
Want more? Check out GoCollect on Youtube!