What is the Secret Wars #1 error variant worth? Finally, how does this Copper Age key match up to other error variants of that era?
So I was talking to my friend and the error variants came up in the discussion. "Hey Nam, do you have Secret Wars #1 the error variant?" "What error variant?" I said stupidly. "Just go ahead and open up to the interior page with the staples" Allowing myself to be lead along like a puppy, I did just that. Well, this copy is in pretty good condition, the staples are intact, but I don't see anything out of the ordinary. Err. Wait a minute, was Galactus supposed to be blue and white? "Yes!" My buddy yelled out, "you own a Secret Wars #1 Blue Galactus Error Variant!"
Was this comic book worth a great deal of money? Could I sell this book for a Maserati? Would I appear on "Lifestyles of the Rich and In-Famous?"
Marvel Super-Heroes Secret Wars #1 Blue Galactus Error Variant
The Secret Wars #1 was written by Jim Shooter with art (both cover and interiors) by the incomparable Mike Zeck.  This book's standard copy has truly shot up in value. Unfortunately, the error variant has lagged. But is slowly gaining in popularity and awareness. Unfortunately, the price has yet to catch up with its regular brethren.  See the two pictures to the left, one with a magenta Galactus and one in all blue and white. The latter is the error.
No Babe Ruth Baseball Card Here…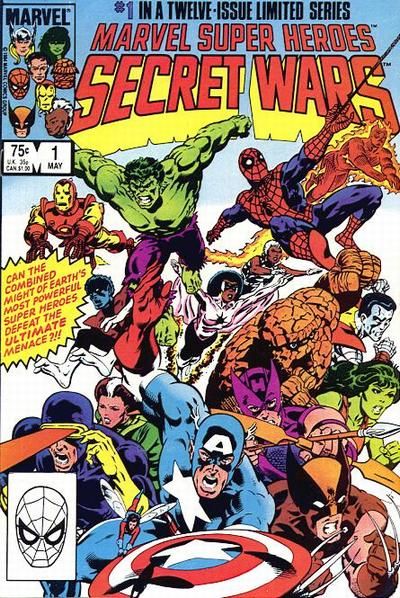 This is definitely nowhere near a Babe Ruth baseball card or the Bob Fett action figure with firing missile pack.
To put it in baseball terms, finding this error variant is a swing and a miss, strike one! Nope, unfortunately, this error variant is currently not well known among collectors, apparently, or at least not popular.
That said, I am sure plenty of this error variant has gone into the standard copy, and its price has risen over the last few years.  Therefore, I will throw that in the analysis soup as well. Essentially, how does it compare to the standard copy of Secret Wars #1?
Compare and Contrast Spawn Variant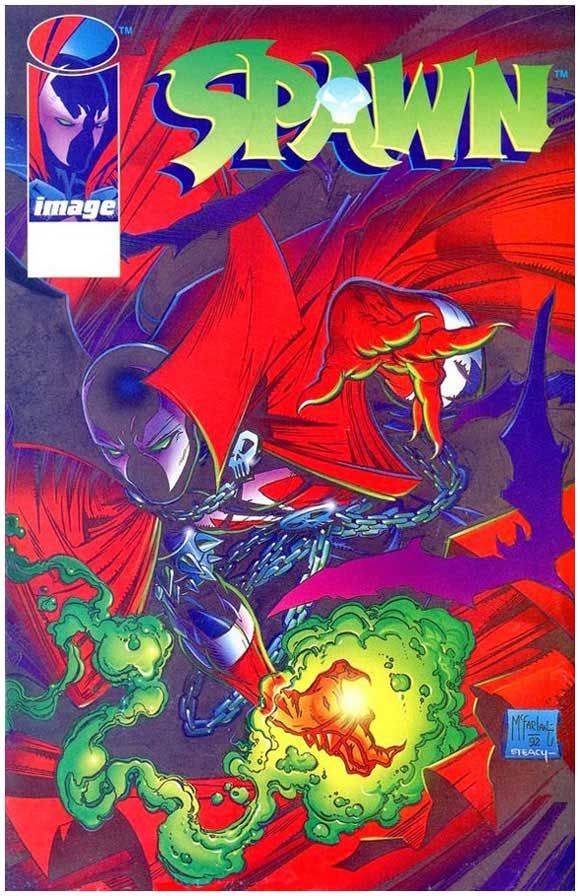 In order to keep the comparison as close to the real world as possible, I pulled a similar printing error variant from the end of the Copper Age.  The recently revealed Spawn #1 (Recalled Black Ink Error Variant). This is kind of the Jackson Pollack of interiors with an ink variant inside the cover page. It is an equally big book with first Spawn, Wanda, Malebolgia, Sam, and Twitch. You know how I feel about multi-keys, they are usually solid investments to own.
In this case, Spawn #1 (Recalled Black Ink Error Variant) has lagged behind the standard Spawn #1. In fact, the standard issue reigns supreme. Though there are 14 sales pending; there is currently no Blue label data for GoCollect.com to data-mine. Yep, scary turn events for someone like me that is data-driven. What do we do with zero sales? I shall have to rely on my eBay data-mining skills for this analysis. And this started out as such a pleasant story. Now, here we go straight to (data) Hell…
Title
Grade
Last Sale
CGC Census
Return 1-Year
Marvel Super-Heroes Secret Wars #1 Blue Galactus Error Variant
9.6
$125 (2/15/21)

(Also one sold 4/6/21 for $99 eBay raw)

N/A
Based on standard copy below +3.8%, a rough estimate only.
Secret Wars #1
9.6
$249
970
+7.6%
Spawn #1 (Recalled Black Ink Error Variant)
9.6/ 9.8
$127/$241
eBay
unknown
Spawn #1
9.6
$180
4175
+36.2%
Conclusion
The results are encouraging but not definitive. Essentially, if we go out one year Marvel Super-Heroes Secret Wars #1 Blue Galactus Error Variant sells for about half the price of the standard issue. Though I did see plenty of raw copies sold on eBay. It might require more inventory to be purchased and sucked up into the collector/investor sphere.
The problem, these Secret Wars #1 books are more ubiquitous than a phone booth in the 1980s.  How can this book catch up when everyone owns a copy? I would hold off chasing the Blue Galactus Variant for now.
By way of comparison, Spawn #1 (Recalled Black Ink Error Variant) has a better eBay presence in sold copies and CGC copies. That said, it is also selling at a discount to the standard issue. In almost the exact same pattern as Secret Wars #1 Blue Galactus.  These two dovetail nicely as the beginning and end of the Copper Age.  Unfortunately, there is not a lot of money here, say goodbye to the Maserati boys and girls!
Are you living up to your collecting potential?
Unlock ALL the tools with a GoCollect Premium Membership!