What X-Men issue should you buy? Further, how have recent sales impacted the price of X-Men comics? Is this investment too "mutated" to recognize and dissect? Let's take a look at X-Men #133. Chris Claremont put the X-Men on the map with his recreation of the X-Men story over 17 years. In my opinion, it was the most popular comic book series of the era. Everyone wanted to see what was going to happen with the new X-Men and Wolverine, in particular. Claremont did a fantastic job shepherding this book for almost two decades. His impact was so large that the carryover of popularity still exists today. That guy is one heck of a writer. What does this mean for speculators and investors in key X-Men comic books?

How popular is too popular?

Let's take the bad news first; X-Men was so popular back in the day, that too many issues were printed around the world. This has definitely impacted price and rarity. How to manage the risk of a popular comic book as an investment that has many issues outstanding? If only it was easy as Wolverine popping his claws, or Collusus turning into organic steel.
Bereft of powers we must use our "little grey matter" to suss out the right course of action. Hard to figure, but remember the warning that everyone has some X-Men in their collection, literally all Marvel fans. Case in point, I recently purchased a 3000 piece collection of the late Bronze and early Copper Age. What do you think the seller had throughout his collection? Yep, you guessed it; Claremont X-Men.
X-Magic?
On the positive side, there is a huge need to revisit the X-Men for Marvel and their owner, Disney. After all, their Fox purchase has to pay off. Additionally, there is a huge interest in the next X-Men movie. Also, let's not forget as each actor or actress is given a character those character keys will surge in value across the board.  We reviewed the positive and negative sides of this speculation, but what X-Men book to buy? Are there any big catalysts to hold out hope for?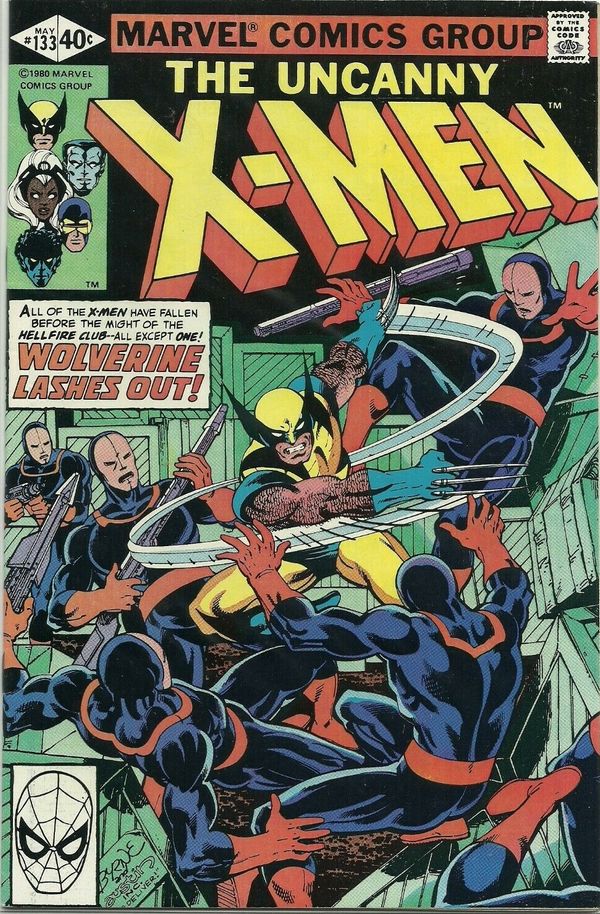 X-Men #133
This is the first Wolverine in his own solo story. He takes out a bunch of minions, which is fun to read. But the first solo story, c'mon – worth the price of admission, to be sure. I am betting this book is seriously undervalued.
This comic book is still reachable for the average comic book speculator and or investor. It is an early Claremont, first solo Wolverine, and a nice overlooked key book. "Are you going to pony up the $500 bucks to own a 9.6 graded copy, bub?" Seems prudent to me that the first character chosen will probably be Wolverine. Therefore, his first solo is an easy target.
| | | | |
| --- | --- | --- | --- |
| Title | Grade | Price Recent eBay Sale | FMV |
| X-Men #133 | 9.6 | $515 | $210 |
| | 9.4 | $250 | n/a |
| | 9.2 | $240 | $170 |
| | 9.0 | $224 | $140 |
Conclusion
This is a good investment in terms of multiple key vectors. It is the first solo story for Wolverine (as mentioned earlier). Second, it is a Claremont story, and third, it has the awesome art of John Bryne. He was the hot artist at that time, and his work holds up today four decades later.
Finally, this comic is at the forefront of a new Marvel story timeline. They (Disney) have to tell the story of mutants in their own multi-billion dollar blockbuster way.
Besides these four reasons, there is the aspect of the numbers looking very good. In a nutshell, FMV is lower than the actual price.
This gives us a good indication that these grades are continuing to drive up in price even beyond AI's understanding of the market.
As a speculator, Claremont has a huge following,  the numbers work, the price is right, and this big key has a potential catalyst; what is not to like? In the words of one anti-hero from the period, "Well, do you feel lucky punk, do ya?"
What do you think? Will you be adding X-Men #133 to your list? Tell us about it in the comments!
*Any perceived investment advice is that of the freelance blogger and does not reflect investment advice on behalf of GoCollect.