The Bronze Age has been surging over the last two years. Horror comics, superhero comics, and even fantasy comics have all blown up. However, investors, collectors, and speculators get flooded by everything else in the marketplace. Often they overlook or forget these once-hot comic books. This might allow us to pick up some Bronze Age bargains, especially compared to their all-time highs.
Three such comics have come across my screen recently while checking the GoCollect.com listings.  The three comics are Tomb of Dracula #1, X-Men #121, and Marvel Spotlight #32. These are three books that have yet to really see a major screen appearance. Namely, Dracula, though popular, has yet to appear in a Marvel movie or TV series, the same with Alpha Flight,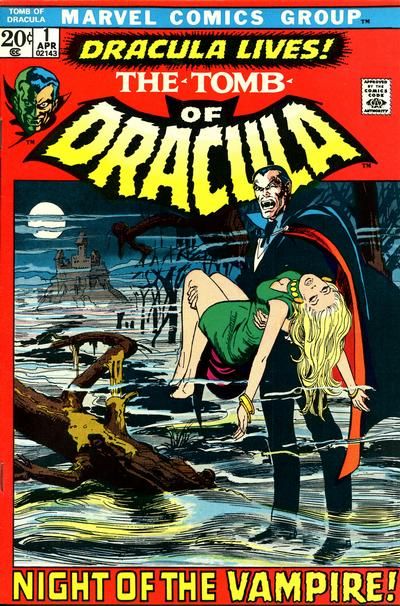 and as far as I am aware, Spider-Woman needs a debut as well. What are the current values of these comic books? What trend returns are they rocking despite a drop in popularity? Finally, is this an opportunity to buy more or let them fade away?
Tomb of Dracula #1
This book has dropped 93 ranks to #160 which is a scary drop. The Tomb of Dracula #1 is the first appearance of Dracula and Frank Drake, as well as Neal Adams cover art. It was created in 1972 by Gerry Conway and the artists are Neal Adams, Marie Severin, and Gene Colan.  This horror book has been a favorite of mine and I have sold and bought many of them over

the years. I was kind of shocked to find this declining in popularity recently. Honestly, I think the Bronze Age is still tragically undervalued on the whole. Buy it now at a slight discount if you can.
X-Men #121
X-Men #121 has dropped 67 ranks to #123. Alpha Flight might have gotten a little overextended. This comic was created by John Byrne and Chris Claremont. Additionally, the pencils are from Dave Cockrum and John Byrne.  This is the first full appearance of Alpha Flight in 1979.  I think the market has gotten a tad ahead of itself with this book. I don't see them being utilized in the second inning of the MCU World Series that is the bread and butter of most speculators.  That said, give a few

months and you will probably be able to pick up a midgrade copy much cheaper.
Marvel Spotlight #32
Marvel Spotlight #32 has dropped  74 ranks to #109 which is Spider-Woman's first appearance and a heck of an opportunity to buy! This comic was created in 1977 by Archie Goodwin, and the pencils are by Gill Kane and one of my favorites Sal Buscema. It is the first Spider-Woman and also her origin story. Two for one, always better than just having one key to fall back on.
Conclusion
Of these three books, I believe the Marvel Spotlight is the strongest bet of the bunch. I like TOD and X-Men, but neither is going to increase in value right away.  Spider-Woman should be cued up in the next two years, just an opinion, or perhaps my "Spidey-Sense" is tingling! Considering a 16% loss in value in grade 9.4, that equates to about a $40 decline in price. That doesn't sound like a lot, hmm? Well, just 60 days ago that book would have cost $360 not $313. This difference is about the same cost to CGC this book. I believe the Marvel Bronze Age is strong and resilient. Marvel Spotlight #32 is a gimme. Do you feel that tingling sensation in your spine? That isn't fear; that is your speculative profit-sense telling you to buy a copy.
Have you upgraded your life yet?