Welcome back to the Blogger Dome! Here, bloggers will argue different topics involving the comic book market and industry.  This will be a combination of the Big Bang Theory meets the WWE.  Smack talk mixed with comic book debates.  Bloggers going at each other to amuse and educate our readers.  And we want to hear what YOU have to say about it. Today's topic is "Amazing Spiderman #129 vs Incredible Hulk #181." So tune in, get comfy, and let's go!
Ding ding! Allow me to present your newest fighters in the Blogger Dome ring… NORMAN and ALAN! Fight!
Fighter #1: Norman
The first full appearance of a character is considered by many to be the primary key for that character. It seems another smaller group of collectors prize the first cameo appearance. This is a debate that can spin on through the eons, I suppose. If we just look at full first appearances who reigns supreme between say, the Punisher, and Wolverine? Is it the Amazing Spider-Man #129 or Incredible Hulk #181 comic book?
These two anti-heroes have been Marvel favorites since their debuts in the Bronze Age. Born in a time of high crime and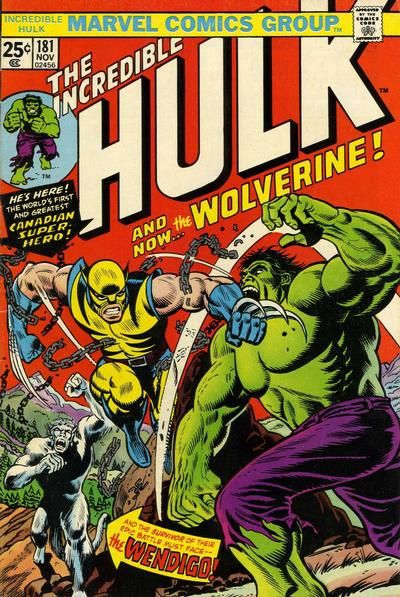 social upheaval, both blazed forth hacking and slashing or sniping and slaughtering, if you prefer.
The juxtaposition between these heroes and the ones that had come before, like The Avengers, was the difference between night and day. Which of these Soldiers of Death have the best trend returns, Punisher or Wolvie? Further and more importantly, which is the top dog of primary Bronze Age keys? Finally, and this is where I believe the Punisher will stand victorious in the Blogger Dome; which is the better investment for the next five years?
Fighter #2: Alan
Welcome back to the Battle Dome.  Where two bloggers enter and only one leaves with fame and acclaim.  This week's battle has two of GoCollect's most in-demand bloggers,* Alan Harper and Norm Robinson, squaring off over the merits of two of the classic first appearance books of the 1974 – Amazing Spider-Man #129 (1st  Punisher appearance) and The Incredible Hulk #181 (1st  Wolverine appearance).  Who could have imagined that such great things could come out of 1974?!
*Completely made up fact.
Not since the 2004 series Wolverine/Punisher, have these two characters been brought together this well. Norm is taking the ASM #129 (Punisher) side of the argument and finds himself like the kid partnered with Grandpa Joe at the family reunion picnic three-legged race – starting in a deep hole and it not getting any better.  I, on the other hand, will be singing the praises of the best thing to come out of Canada since maple syrup and the invention of the IMAX Theater, The Wolverine's initial appearance in The Incredible Hulk #181.  Norm, am I missing anything?
Round 1 First Blood!
Norman

: Return Trend
In this matchup between Wolverine and Punisher, Frank Castle delivered a sniper shot through the eye socket at 1000 yards. As Punisher reloads to make sure Wolverine's healing factor can't save him, let's take a look at the overall prices. Okay, "bub"?
Wolvie's first appearance in the Incredible Hulk #181 sold the most recent copy for $11,998. Unfortunately, Punisher is nowhere close to this number. I have to admit that IH #181 is the more expensive key.  The Punisher with Amazing Spider-Man #129 sold its most recent comic book for only $2900.
To quote my favorite presser, Steve, "I think this book has been seriously undervalued for quite a while."  Round one to the Punisher with an asterisk about the actual prices.
Alan:

Best New Character Award goes to….
Alan – The Incredible Hulk #181 gave the world one of the best characters of all time, Wolverine.  Marvel introduced him as a "gaudily garbed gentleman" and revealed his strength, claws, and adamantium infrastructure.  His mutant powers were just peeking through as he battled the Hulk and Wendigo.  Wolverine is perennially one of the world's favorite superheroes.  While the Punisher is a highly regarded anti-hero, he does not have the depth of powers or character as Wolverine.
We all know that Wolverine goes on to power some of the best stories and art of all time within the X-men series and has spawned a seemingly endless number of other books and crossovers.  Why all the attention, you might ask?  Logan is a tortured soul, rough at the edges. But in the end, he is a hero we love (even as he is hard to love).   He is the most complex and relatable superhero we have, a failed samurai that we never tire of following.  
Wolverine may have been born in Hulk #181, but the real magic happened in the Uncanny X-Men (issues #140-142) and the 1982 self-titled miniseries.  Hugh Jackman has brilliantly played Wolverine in the movies for nearly two decades.  Who was picked to bring Frank Castle to life on the silver screen?  Swedish heartthrob, Dolph Lundgren. 'Nuf said.
Round 2 Second Swing!
Norman:

CGC Census
CGC Census is actually incredibly important to gauge where a book might go in the future. If there are 10,000 in one grade, it's highly unlikely (though it has happened) the book will increase at a breakneck pace.
During the time of these two books, Amazing Spider-Man #129 produced a 288,232 subscription average*. Whereas Incredible Hulk #181 had a 262,472 subscriptions monthly average*. These numbers were the best I could get from *Comichron.com, a website that tries to track the volume of comics by title.
With roughly the same number of outstanding copies, but Amazing Spider-Man popularity at the time probably higher. I am going to give this round to the Punisher. Though he drew blood, it was not a kill shot.
Alan:

Which Comic is the Best Investment?
Here, the rubber meets the road.  While clearly, Wolverine is the superior character, is Hulk #181 a good investment? Or is all the greatness baked in already?  According to GoCollect records of sales, the value of Hulk #181 has roughly doubled in the last six months (9.0 grade – 9/20 $5,600 to 3/21 $11,900; 6.0 grade – 8/20 $2,900 to 4/21 $6,125).  It is hard to imagine a more secure investment.  But, at the same time, it would be hard to call this a big value play. Obviously, this is a book that is not going out of style anytime soon and there is no hero as dynamic as Wolverine.  Part of investing is in buying assets that will not lose you money.  If you want one of the best blue chip comics to own, look no further.
Round 3 Third Strike…
Norman:

Future Shock Pizazz
Future Shock was a popular movie in the 70s and spoke to the overwhelming nature of modern society and rapid change. Everything moves so fast and changes constantly, people can't keep up. Which of these two characters have positive Future Shock "Rock n' Roll" value? Is it Wolverine that has been done to death in movies, TV animations, not to mention being played by Hugh Jackman for a decade?
I don't think so. Quite honestly, Wolverine's best days are behind him. Punisher, on the other hand, has never really made a mega-hit movie. Most of his movies are "B," but the TV series did offer a compelling story.  The bottom line? Punisher has a positive Future Shock value and Wolvie is played out.
Alan:

Predicting the Future
Is there any potential upside here?  Hugh Jackman has hung up his claws after the third solo installment of the character in Logan, a futuristic, mature, and dark film, which seemed to lay the groundwork more for future X-23 films than anything else.  But Disney/Marvel have masterly managed The Avengers and The Guardians of the Galaxy franchises. Can
Wolverine and the X-Men be far behind?
Check out Marvel Unlimited or any price guide and you can find over 70 titles relating to Wolverine. Compare anything you would like (except maybe the initial drawings of the character costumes) and Wolverine is superior to The Punisher. The mini-series, the character popularity rankings, or the sheer volume of enduring work, Wolverine is the most dominant force in the MCU not named Ironman or Captain America.  He is also infinitely more interesting than either.
Finish Him!!!
Norman:

Isn't Wolverine Dead? 
I could have sworn that Wolverine died like some pathetic member of the weasel family in his last movie. This was a suitable ending for Wolverine as a movie character, especially after watching him carry the X-Men on his back for a decade.
When we look at the totality of the two characters Punisher has more room to run, slightly better trend returns, a lower price point to enter, and will be a fresh face in the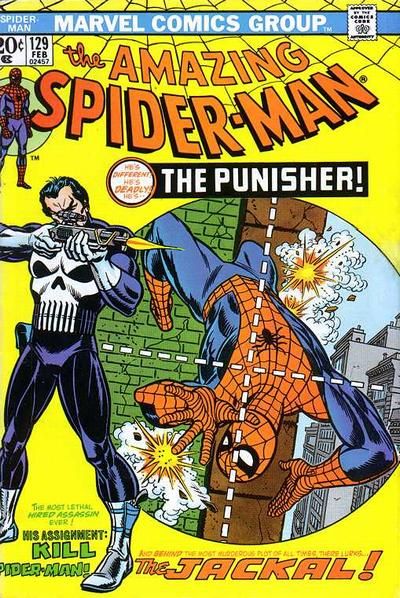 movies in the future. The "coup de grace" for the Punisher is that he is a realistic hero in an unrealistic world. He will drive fans nuts taking out supervillains like he was Seal Team Six. Buy a copy of Amazing Spider-Man #129 or prepare to be punished.
Alan

: Who Won the Battle of 1974 Initial Appearances?
Just like in the 1991 What if… Woverine Had Become Lord of the Vampires, where Wolverine and the Punisher battle head to head and Logan finishes off  Frank Castle (did you even know the Punisher's name before today?) this battle clearly is won by the Hulk #181 issue.  Norm's only decent point is **"But how can that possibly win over the birth of the best character – EVER?"** 
The Punisher is the classic anti-hero, a force of vigilante justice and an ability to use guns the way Hawkeye fires trick arrows.  It seems clear that, while Norm did what he could with a character that needs therapy more than he needs an arsenal, Hulk #181 reigns supreme. As Logan says, "I'm the best there is at what I do, but what I do isn't very nice." Frank Castle's never said anything half that wise and won't any time soon.